CNN's Dana Bash: 'Unlikely' House Will Pass Bill Which Averts Shutdown Tonight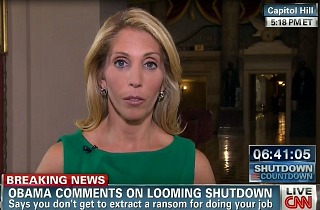 CNN Chief Congressional Correspondent Dana Bash reported on Monday that the House was unlikely to pass a clean continuing resolution which would pass the Senate and avert a government shutdown. Minutes after President Barack Obama finished speaking, Bash reported that the House is no closer to capitulating on their demand that the Affordable Care Act be altered in a continuing resolution.

Bash reported that Speaker John Boehner (R-OH) will concede to Obama and the Senate Democrats' demand that the House pass a "clean CR."
Boehner earlier told Bash that "the House will act" but he indicated that the lower chamber of Congress will not pass a spending bill that does not include preconditions.
Wolf Blitzer said that it was understanding that a clean CR could pass in spite of opposition from the most conservative, tea party members of the House. Bash said that she said it was "unlikely" that the House would vote on, let alone pass, a clean CR.
RELATED: Ed Henry and Jay Carney Go at it Over 'GOP Talking Point' on Not Negotiating with GOP
"It doesn't seem as though it would be difficult to pass a bill that simply funds the government with month strings attached," she observed. "The Democrats have already come out and said they would support it even though the funding level is lower than they would like."
Bash spoke to one Republican congressman who has been critical of the defunding effort in the past, but who supports a CR which mandates that Congress not receive special subsidies for their health care plans.
Bash said that the GOP is betting that Democrats in the Senate will be politically unable to vote against such a measure in the hours that remain before the government enters a limited shutdown period.
Watch the clip below via CNN:
[Photo via screen grab ]
— —
> >Follow Noah Rothman (@NoahCRothman) on Twitter
Have a tip we should know? tips@mediaite.com