CNN's Don Lemon Comes Out: Publicly Acknowledges He Is Gay Via Twitter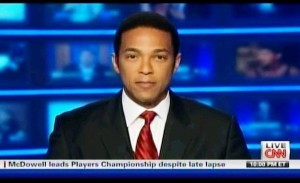 In a Twitter posting to his 89,805 followers Sunday night, CNN anchor Don Lemon linked to a New York Times story that reveals he is gay, and thanked his followers in advance for their support. The revelation comes in advance of his upcoming book, Transparent (due out June 16), and in the interview with NYT's Bill Carter, Lemon reveals that, while his sexuality was known to his colleagues, going public carries with it considerable anxiety.
Lemon reveals to Carter that, in addition to the "normal" stress of coming out, he worries about acceptance from the black community:
"It's quite different for an African-American male," he said. "It's about the worst thing you can be in black culture. You're taught you have to be a man; you have to be masculine. In the black community they think you can pray the gay away." He said he believed the negative reaction to male homosexuality had to do with the history of discrimination that still affects many black Americans, as well as the attitudes of some black women.

"You're afraid that black women will say the same things they do about how black men should be dating black women." He added, "I guess this makes me a double minority now."
Elsewhere in the interview, he describes the process that led him to this decision, and expresses a hope that announcements like his will make it easier for others struggling with the decision, and perhaps avert tragedies like the Tyler Clementi suicide. He also allowed that other closeted public figures need to be able to make up their own minds about such a personal decision.
Whatever the effects on Lemon's career, the decision to go public is a courageous one, and his willingness to challenge his own cultural norms is doubly so. The phenomenon he describes was made evident when 70% of black voters voted in favor of California's Proposition 8, which outlawed same-sex marriages. Exit polling also showed that 84% of regular churchgoers supported that measure.
Have a tip we should know? tips@mediaite.com