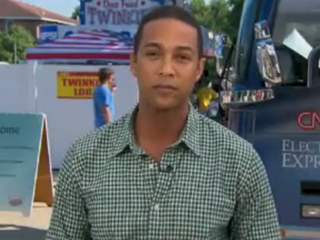 The strangest story of the Ames Straw Poll seems to have happened long before the poll itself. CNN anchor Don Lemon reported on a "very disturbing" incident with Rep. Michele Bachmann, who he claimed had his security, and even husband Marcus, push and shove him into a golf cart. While the cameraman got lost in the crowd, the audio certainly depicts an agitated Lemon asking seemingly harmless questions like "where do you think you'll end up in the straw poll?"
Lemon noted that Rep. Bachmann was supposed to give a speech, as many other candidates were, at 5, but "showed up at 5:30, talked for five minutes" and left. Lemon and his team followed, but found themselves in a troublesome situation:
I asked her very respectful questions about her performance last night, where does she think she's going to end up in the Straw Poll. And her two campaign aides… started elbowing me and pushed me through the crowd and her husband Marcus did the same thing– even pushed me, elbowed me into a golf cart where I hit my head and it caused people to spill things.
According to the CNN report, Rep. Bachmann's press secretary said "it was just too crowded," and that they were only looking out for the Congresswoman's safety. It also notes that Marcus Bachmann apparently told Lemon "you did it yourself" when he protested to being tossed into a golf cart. "I don't know why this happened," Lemon noted, "it was an embarrassing display on their part."
CNN also released the raw footage, where it does appear to be a large crowd and, while the cameraman isn't able to fully capture the action, Lemon can be heard protesting, concerned for his safety.
Lemon's report and the raw footage of the incident via CNN below:

Have a tip we should know? tips@mediaite.com