CNN's Don Lemon on Ashton Kutcher: When Did Hard Work Become 'Conservative Value?'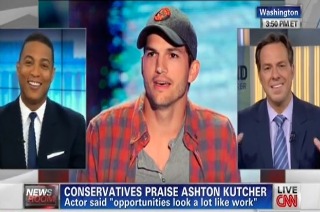 Actor Ashton Kutcher inspired conservatives across the U.S. when he took the opportunity of an award ceremony acceptance speech to extol the value of hard work and perseverance. Conservatives praised Kutcher for articulating conservative principles for young people who may not otherwise encounter them. On Thursday, CNN anchor Don Lemon appeared confused by the love Republicans have shown for Kutcher who is an activist Democrat. Lemon wondered when hard work became solely "a conservative value."

"I've never had a job in my life that I was better than" Kutcher said during the Teen Choice Awards on August 11. "Opportunities look a lot like work."
"Amen, brother," Lemon said to CNN host Jake Tapper. "I think he's right on, but when did working hard or having a solid work ethic become only a conservative value?"
RELATED: Colbert Gets 'Daft Punk'd' By MTV, Leads Epic Dance Party Feat. Jimmy Fallon, Jon Stewart, Henry Kissinger…
"I don't think it is," Tapper replied. He noted, however, that a number of conservative talk show hosts are praising Kutcher for "preaching conservative values."
"This often happens, Don, you hear somebody say something that sounds like common sense and one political side or the other says 'this is exactly what we stand for,'" Tapper observed.
Tapper noted that Kutcher is a prominent Democratic donor and activist.
Lemon wondered whether conservatives had succumbed to a misconception that people in Hollywood have a poor work ethic and that only residents of the Midwest or the North East value work.
"I think that's part of it," Tapper agreed. He noted that conservatives do not hold Democratic-leaning California in high regard, which could also contribute to the misconception about a lack of work ethic in show business.
Watch the clip below via CNN:
—
> >Follow Noah Rothman (@NoahCRothman) on Twitter
Have a tip we should know? tips@mediaite.com