CNN's Don Lemon Responds to Critics and Russell Simmons: 'Attack The Problem Not The Messenger'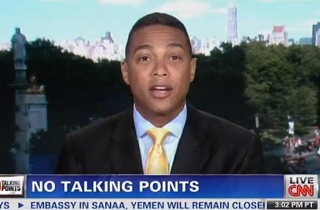 CNN anchor Don Lemon created quite a stir two weeks ago when he expounded on Fox News host Bill O'Reilly's assessment of the black community, and reaped a whirlwind of criticism in response. In particular, hip hop mogul Russell Simmons wrote several scathing tweets, and an open letter to Don Lemon. The heated reaction has not caused Don Lemon to shy away, as evidenced by his revisitation of the topic Saturday night, in which he re-framed his remarks within the context of black leaders like Martin Luther King, Malcolm X, President and Mrs. Obama, and Bill Cosby, rather than as agreement with Bill O'Reilly.
Following several lengthy clips of these leaders speaking about black empowerment and personal responsibility, Lemon responded directly to Simmons' open letter.
"I'm glad you wrote the letter," Lemon said, the first of several such assurances, but said he almost didn't respond, "not because I think you completely missed the point, not because, like many of the other critics, I thought you were just using the occasion as a promotion for one of your businesses, your website, but I wasn't going to address it because, quite honestly, it was hard to take you, and it, seriously after you called me derogatory names like slave on Twitter."
He pointed out that he had invited Mr. Simmons to appear on the program several times, including Saturday night, but had been declined. "Don't throw stones, and then hide your hand," Lemon said.
Lemon then delivered a point-by-point rebuttal to Simmons' letter, and concluded with another clip of President Obama, saying "Nobody cares how tough your upbringing was. Nobody cares if you suffered some discrimination. and, moreover, you have to remember that whatever you've gone through, it pales in comparison to the hardships previous generations endured, and they overcame them, and if they overcame them, you can overcome them, too."
"Thank you, Mr. President," Lemon concluded. "That's tonight's 'No Talking Points.'"
Here's Don Lemon's response in full, from CNN:
Image via CNN
Have a tip we should know? [email protected]