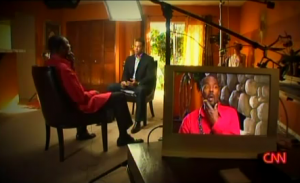 Marking the 20-year anniversary of Rodney King's violent encounter with Los Angeles police that would spark racial tensions throughout the country, CNN's Don Lemon spoke with King and his fiancée Cynthia Kelley in what became one of the last — and certainly the most in-depth — interviews King gave. Upon receiving news of King's death on Sunday morning, Lemon revisited the special, "Race and Rage." Speaking to Mediaite, Lemon reflected on his two-day visit with King and what he took away from it.
RELATED: Rodney King Found Dead In His Swimming Pool
When Lemon and his team flew to California to meet with King for the anniversary special, they weren't even sure they'd be getting an interview out of the trip. Not because King had refused, but because he'd first consulted with his fiancée, who Lemon said was "very guarded" about King's privacy. Once there, however, Lemon wound up spending two days with couple — and found himself speaking with a very candid King.
Beyond his candor, Lemon was "just surprised honestly that he was still alive" given all that he'd been through. Against the backdrop of his health problems and history of substance abuse, Lemon "was surprised he was still standing and could look the way he looked." The email about King's death, nevertheless, prompted him to wonder whether it was true or a hoax (which all too often spread through social media). But upon receiving confirmation, Lemon's first thought went to one person. "All I could think about was his fiancée," he said, describing her as a "grounding" presence in King's life. While King had difficulty holding on to a job, Kelley was the one who got up everyday for work, who took charge, who even got King dressed, telling him what to wear.
Out of her view, "left to his own devices," was when Lemon felt King found himself in trouble. But Kelley wasn't only his fiancée: she was also a juror during King's civil, lending herself to providing a glimpse at the inner workings of the court case and deliberation, as well as King himself.
Kelley described King as "like a teddy bear," a characterization Lemon agreed with. "As much as he's been demonized," Lemon said, King, in person, is "very gentle, very docile."
During his interview, Lemon also found it difficult to keep King on track. "It was tough for him to focus," leading Lemon to rephrase and repeat questions — to the extent that he wondered "sometimes, quite honestly," whether King's scattered attention was a result of his substance abuse. "I wasn't sure if it was because he was using, or because of his head injuries, or a combination," he said.
Yet despite this hurdle, King offered a candid, in-depth window into his life and past, even going so far as to retrace and act out the arrest just as it happened two decades ago — a move that took Lemon hadn't expected. "He's driving, and I'm in the passenger seat," Lemon said, and "he gets out of the car…where they stopped him. And he proceeds to get on the ground and reenact that very night. I couldn't believe it. Afterward, he was shaking. […] He became very emotional about it." It's a "great record for history," Lemon said.
In "his heart of hearts" Lemon said he felt King wanted to "get all of that out and have it behind him." Though "that's not something that you can just erase from your memory bank." And indeed, King was haunted by those memories on a daily basis. As he spoke about in the CNN special, King faced nightmares, waking up in a cold sweat, even sometimes dreaming he'd died, not surviving the police brutality. He "never knew if he was going to sleep through the night."
Despite the everyday battle, despite his fear of police, King still lived in California, and in a suburb of Los Angeles no less. "He said his home is in California," Lemon said. "That's where he wanted to be because that's where Cynthia was. And that's where her life was, and so his life was there as well." L.A. was all he'd ever known.
In retrospect, and in especially after death, it's easy to place King on a pedestal, but Lemon made it blatantly clear that's not how he should be remembered. He was not was not a hero, never wanted to be known as a role model. Open about his struggles, King said he got into trouble before and after his incident with the police. He never set out to be famous, but had the spotlight thrust upon him.
"[King] is not an angel and we should not romanticize anything about his actions and what he did," Lemon said. "He did some terrible things but here was a lot of good that came out of that incident because it changed not only the Los Angeles Police Department" but also police departments across the country, particularly in terms of added diversity.
Lemon recalled the incident as one of the first big events we saw captured on tape, noting that the video is one that still affects people deeply. Very few videos have moved us as much as King, he said. As a journalist, Lemon said he felt "very honored " to "have been able to be in the position to document the last 20 years in his life."
"My experience with Rodney King was a powerful one and a positive one," he said. Concluding their meeting, Lemon left King "by saying, 'Rodney, don't get in trouble anymore, stay out of trouble.'" King, a year older than Lemon, addressing him as "sir," agreed that he would. And "that was the end of it."
Have a tip we should know? [email protected]