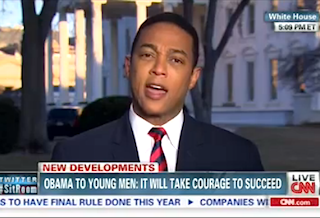 Over the past few years, CNN's Don Lemon has been one of the most prominent voices when it comes to empowering young black men to achieve more than society sometimes expects them to. And, as Wolf Blitzer noted Thursday afternoon, he has often come under harsh criticism for expressing those views.
Today, Lemon spent most of the afternoon at the White House, reporting on President Barack Obama's "My Brother's Keeper" initiative. Following the president's speech announcing the program, Lemon got emotional talking about his own experience, at times fighting to hold back tears.
"Obviously, I am a journalist, we want to remain objective, but I'm also a human being and I relate to that more than most," Lemon said of Obama's speech, comparing himself to someone like Blitzer who can't understand what it's like to grow up as a young, African-American man in this country.
Lemon described the advice he gives to young people who ask him how they too can make it as a "strong, black man" or woman or gay person in the news business. "I always say stop looking at yourself as other. Yes, we get racism. Yes, we get bigotry… Yes, you can be aware of who you are and you can be proud of your identity and all of those things, but concern yourself with being excellent and then before you know it, all of those things that you thought were hindrances will be your silent motivators and you will have made it and you will be doing it and working in your career and you'll look back and say, how did I do this?"
Lemon stressed that "this has nothing to do with what white people think about you, this has to do with what you think about yourself." He also added that this is "one of the reasons, as a gay person, that I came out. I wanted kids who may have been dealing with that to realize, that guy on television is a normal guy. He's just like me. It is okay."
"So this has nothing to do with being an Uncle Tom or being white or not being respectful of your race," Lemon continued. "This has to do with personal responsibility, with what you think about yourself and that you can achieve. Who cares, who gives a damn about racism? It is always going to be there. It has been there since the beginning of time, so you must figure out how you can achieve regardless of that, in spite of that, and that's what the president was saying."
It was powerful television on CNN, with Blitzer letting Lemon speak for several minutes without interruption. "You have been, Don, an inspiration to a lot of folks out there," Blitzer said before going to commercial.
Watch video below, via CNN:
[photo via screengrab]
— —
>> Follow Matt Wilstein (@TheMattWilstein) on Twitter
Have a tip we should know? tips@mediaite.com