CNN's Erick Erickson: Rand Paul Is What Happens When "Joe The Butcher" Runs For Office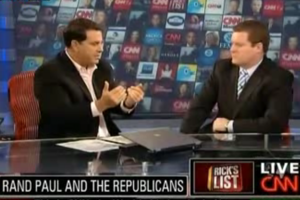 The fallout from Rand Paul's Civil Rights Act PR disaster keeps pouring down the cable news wires, and conservative pundits are being asked to explain what was going through Paul's mind during that fateful interview with Rachel Maddow. Yesterday, Rick Sanchez asked RedState.com editor and CNN contributor Erick Erickson that very question, and Erickson remixed a 2008 meme to explain why people like Paul say the darnedest things: that's what you get when Joe the Butcher runs for office.
Sanchez noted that the mainstream Republican Party had been relatively mum on the matter, and asked Erickson what that was all about. On the one hand, Erickson noted, there are many Republicans that don't support him and never did. On the other hand, he continued, some Republicans "just don't want to keep the story perpetuating when they feel it shouldn't be a story."
Sanchez argued that not only should it be a story, but it was Rand Paul himself who created it. Except, Erickson retorted, it's not like Paul really knew what he was doing. After all, it's not like Paul is a professional politician:
"They want Joe the Butcher to leave the butcher shop and run for office. Well, Rand the Eye Doctor left the eye doctor shop and is running for office and now people are like 'Holy cow, hes not a professional politician!'"
Erickson continued to explain that Paul is not a "soundbite politician" but a "philosophical politician," one that "gets mired in the weeds" and is not very good at condensing his ideas into a package that, with only seconds to relay the message, sounds sane. At some point though, countered Sanchez, wouldn't Paul see that theory and reality are often nowhere near each other? He cites the theory versus the practice of communism as a counter-example, and brings up some chilling images of the 1960s that he said made him doubt the ability of people to make good choices.
Video of the segment below:

Have a tip we should know? tips@mediaite.com