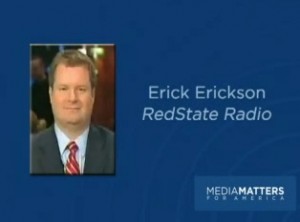 Think Progress reports (via Media Matters) that Redstate chief and new CNN contributor Erick Erickson said on his radio show that he would pull his wife's shotgun on any "twerp" census worker who tried to get him to fill out the American Community Survey. He made no mention of either "fava beans," "Chianti," or "putting the lotion on its skin."
The Census Bureau is rolling out the ACS nationwide this year, after testing it since 1996. It's a survey designed to either help communities better determine their needs, or to steal your soul, depending on who you ask. Apparently, Erick is in the latter group.
I'm beginning to smell a rat here. Just last night, Jon Stewart criticized CNN for hiring Erickson, then acting shocked to learn that he crosses the line so much that the line issued him a permanent visa. Now that he's out threatening census workers, I'm wondering if that wasn't the whole point. It may be an imperfect analogy, but what cable network wouldn't hire Hannibal Lecter if they could? He might not be great for journalistic credibility, but I bet people would watch. That's something CNN needs a whole lot more of.
In all seriousness, though, Erickson characteristically mocks the reaction to his screed, saying "naturally the left is out today saying I was on the air advocating killing census workers."
That's  not exactly true, but I wonder what Erick thinks will happen if his millions of readers pull their shotguns on census workers?  The  result will be a lot of census workers crapping their pants, at best. At worst, well, not everyone's the cool-headed expert firearms handler that Erickson is.
Have a tip we should know? tips@mediaite.com