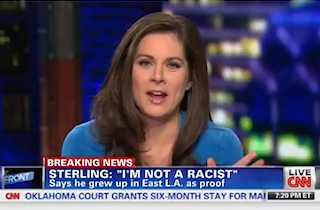 The continued debate over L.A. Clippers owner Donald Sterling's racist comments took a strange turn on CNN's Erin Burnett Out Front Thursday when the host of the show drew an analogy between Sterling's attitudes on race on those of America's third president Thomas Jefferson. In light of Sterling's latest assertion that he's "not a racist," Erin Burnett and her panel of guests examined what could be driving his outrageous behavior.
Burnett cited the fact that Sterling was apparently dating someone who was Hispanic and black, V. Stiviano, and allegedly liked to go in the locker room and look at his players' "beautiful, black bodies," to make the point that he has some sort of "obsession" with black people.
Psychotherapist Robi Ludwig took this idea one step further, saying Sterling seemed like a "slave owner," who viewed these people as an "extension" of himself. "I own them, look how beautiful they are, they are superior, look at those bodies," she said, imagining what goes on in Sterling's head.
Don Lemon said he found it disturbing when Sterling said "you can't force someone to sell property in America" in his newest leaked tape. "I know that he is the owner of the team," Lemon said, "but essentially he is referring to the people on the team as his property when he says that."
Finally, this led Burnett to her analogy about one of America's Founding Fathers, who also happened to be a slave owner who fathered children with one or more of his slaves. "Whatever he was doing, again, dating, sleeping with whatever, a person of color, well, you know, that was very common, right?" she asked. "I give you Thomas Jefferson." She added, "That concept of 'Oh, you're beneath me, but I'll have sex with you' was the way it worked in the American South."
Lemon and other panelists seemed to agree with Burnett, with Ludwig getting the last word.
"In Donald's mind, that may make him not racist," she said. My lover is black and Hispanic, so that means that i'm a good person, and I'm not prejudiced, and that's simply not true. Because people who have racist and prejudiced ideas always can make an exception for one person, but that doesn't change their general feeling about the group."
Watch video below, via CNN:
[Photo via screengrab]
— —
>> Follow Matt Wilstein (@TheMattWilstein) on Twitter
Have a tip we should know? tips@mediaite.com