CNN's Erin Burnett Delivers Powerful Defense of Vaccines: 'This Is Not About Choice'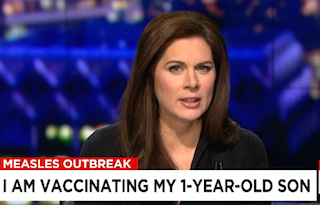 CNN anchor Erin Burnett rarely shares her opinion with viewers, but as the mother of a one-year-old son, she decided to speak out strongly in favor of vaccinations during her 7 p.m. show Tuesday.
"Look, I've been very open about my view on vaccinations," Burnett said on-air. "I am vaccinating my 1-year-old son."
She went on to point to America's historic struggle with polio to emphasize the importance of vaccinations. "People who don't vaccinate probably don't imagine their child never walking again because of polio," she said. "They can't imagine standing in line, like these Americans, waiting for that first polio vaccine in the hopes that their lives would be protected from a great evil."
"Hopefully, what more people will realize in this whole national conversation is that the only reason polio is quote-unquote gone is because of mass vaccinations," Burnett added. "We need to keep vaccinating."
"This is not about choice," she said, in a direct rebuke to politicians like Gov. Chris Christie, who said parents should have "some measure of choice" when it comes to vaccinating their children. "This is about our moral responsibility to our children and to other people's children."
The anchor tweeted a link to the video Wednesday morning:
I am vaccinating my baby boy. Here's why:
http://t.co/tGMTD4uLSu

— Erin Burnett (@ErinBurnett) February 4, 2015
Burnett is not the only prominent female cable news host to speak out in defense of vaccines as a measles outbreak spreads across the U.S. Fox News' Megyn Kelly, who herself is a mother of three young children, told viewers Monday night that she always vaccinates her kids as their doctor prescribes.
"This is going to be a big issue for politicians going forward, because it's about Big Brother," Kelly said. "But on the other hand, some things do require some involvement of Big Brother."
Watch video below, via CNN:
[Photo via screengrab]
— —
>> Follow Matt Wilstein (@TheMattWilstein) on Twitter
Have a tip we should know? tips@mediaite.com