CNN's Erin Burnett: 'Pathetic' Some GOPers Voting Against Deal to Avoid Getting Primaried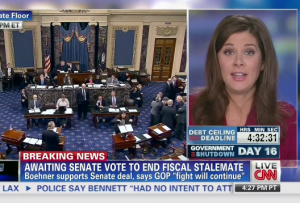 On CNN Wednesday night, former Republican congressman Tom Davis said a few GOP members will be voting against the compromise bill because they're afraid of getting primaried, a move which Erin Burnett referred to as a "pathetic reality" of contemporary American politics.
John Avlon was particularly peeved at Ted Cruz for the way he put his own political interest above the interests of the Republican party, saying Cruz should "watch out" for political fallout in the near future.
Burnett asked if a "no" vote from any member of Congress would, in any way, be a "smart vote." Davis told Burnett they would vote no to win their primary elections, because even if they want the government and the world economy to be stable, they don't want someone running to the right of them in 2014. He said, "To the tea party, a no vote is a safe, safe vote."
Burnett thought this to be, in essence, "pretty sad" that anyone would vote against their conscience for their political well-being.
"It is a pathetic reality that you have people who are casting votes hoping that they don't get what they want because it's smart for re-election. That's against everything Americans would like to think is happening."
Paul Begala added that this comes down to the voters to hold their elected officials accountable. Burnett concluded, "When you get mad, maybe you should think about who you voted for and why you did it."
Watch the video below, via CNN:
[photo via screengrab]
— —
Follow Josh Feldman on Twitter: @feldmaniac
Have a tip we should know? tips@mediaite.com
Josh Feldman - Senior Editor