CNN's 'Exclusive' With Laurie Fine Is Eerily Similar To The CBS 'Exclusive' With Mike McQueary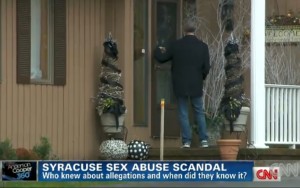 On Nov. 15, CBS touted an exclusive interview with Penn State assistant coach Mike McQueary, the man who allegedly saw and reported Jerry Sandusky abusing a boy in the locker room shower. The interview with Armen Keteyian lasted a whopping 24 seconds and its only legacy was a brief "shaken like a snowglobe" Internet meme. To say it was roundly mocked by anyone watching would be an understatement.
On Monday, CNN — with far less lead-up fanfare — touted an exclusive interview with Laurie Fine, wife of former Syracuse assistant basketball coach Bernie Fine, who is accused of molesting team ball boys. This interview lasted 18 seconds, and consisted of AC 360's Gary Tuchman knocking on the door of the Fine house, and swatting down "no comments" from Laurie Fine by asking more questions. He eventually got the door shut in his face as a dog barked at him.
If the two cases, as it has been stressed, are different beasts, this style of "interviewing" tangential characters in the drama has been strikingly similar. And increasingly disturbing.
Keteyian's interview consisted of 68 words, 29 of which were McQueary's. Tuchman's was 70 words, 21 of which were Fine's. Both Fine and McQueary were interviewed at their houses. McQueary at least was shown outside, and the camera seemed to be right there with him. Keteyian defended the interview the next day on 106.7 The Fan (via Dan Steinberg's D.C. Sports Bog):
"I just said to him, look, we've got a camera here, would you mind if we at least documented the fact that I was at the house? And he said it was ok.

"And then I said you know, I have a microphone, can I ask you just how you feel? And he said ok…. I've done this a long time, and I know when to push the accelerator down and when to leave it off. And that was not the time to hassle Mike McQueary. And I just left with what I had."
Tuchman, meanwhile, looked like he had the camera shoot from a distance while he asked Laurie Fine his questions. And we never see Laurie Fine's face. Just a voice from inside the house, caught on a microphone that Tuchman had on him. If it was pre-arranged, steps were obviously taken to make it look like it wasn't, all the way down to the knocking on the door. And Laurie Fine seemed congenial at first, saying that Tuchman wasn't bothering her when he opened the questioning by apologizing for the intrusion.
To Tuchman's credit, he later noted that she, "kind of had a little slight smile as I came to the door." But that could have been conveyed by just reporting the entire exchange to Anderson Cooper, instead of making Tuchman look like a stalker who creeped up on the front lawn and was barked away by what sounds like a miniature dog. Not helping his case? Moments later, Cooper showed a TMZ-style clip of Syracuse head coach Jim Boeheim — who lives in the same neighborhood — driving away in a white SUV.
CNN's "interview," while not as heavily hyped as CBS's, reeked more of an ambush. Maybe in the time between the knocking and the talking, Tuchman explained, off-camera, that he was taping and recording the conversation (there was a graphics swipe that implied some time had passed). And it's still a reporter's job to get the interview. But the only real value to come out of actually showing the 18-second interview with Laurie Fine — instead of Tuchman just saying that he talked to her and got a string of no comments — was to take her voice from the clip and match it up with the voice in the phone call she supposedly appears in, with one of her husband's alleged victims. That never happened (at least, not on air).
Instead, it's just another useless clip that probably boosted Tuchman's Power Grid ranking for a couple days. If anything, the clip only really serves the purpose of showing viewers that the Fine house has a rather abstract sense of Christmas decorating, with what appear to be black-wrapped trees out front.
Watch the "interview" with Laurie Fine below, courtesy of CNN:
Have a tip we should know? tips@mediaite.com