CNN's Fareed Zakaria: Buffett Rule Is 'Wrong' And Too 'Trivial' For Obama To Run On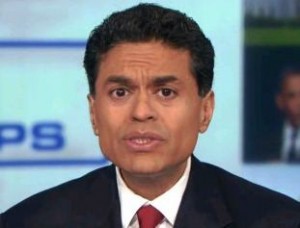 With a new controversy popping up every so often on the campaign trail, it's easy to forget what we were all yelling about a week ago. Well, if you do remember the political fight over the proposed Buffett Rule, you may find it interesting that on his CNN show today, Fareed Zakaria criticized President Obama for trying to make "raising taxes on the wealthy" a central point of his reelection campaign. He argued that this was the "wrong" theme for the president to settle on and while it may do some good, it's does too little to produce a big effect.
RELATED: Bill Gates Endorses Raising Taxes On The Rich: 'That's Just Justice'
Zakaria admitted that while the rule is something that may have a positive impact on the economy, that impact barely registers when compared to the financial situation the country faces. What it does instead, Zakaria argued, is just add another layer to an increasingly complicated and frustrating tax code.
Politically speaking, Zakaria also claimed that Americans tend to be more "aspirational" than "envious" of the rich, and such tactics can only work for so long before they backfire. He contrasted the U.S. recovery, which is set to boost our economy by 2-3 percent this year, with negative trends in Europe over the same time period. Zakaria concluded by suggesting Obama should go back to his earlier theme of "an economy built to last."
"[He should] frame this campaign as a choice between public investments on the one hand versus budget cuts on the other. He has substance behind his rhetoric… So he should ask Americans to choose between these investments to spur long-run growth versus massive budget cuts. In the midst of the economic crisis, Warren Buffett said his strategy was to invest in America. That's the Buffett Rule Obama should follow. Let's get started."
Watch the video below, courtesy of CNN:
Have a tip we should know? tips@mediaite.com
Josh Feldman - Senior Editor