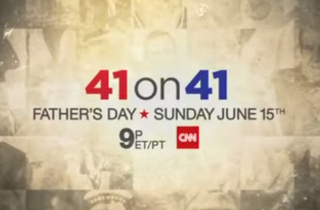 Baltimore Sun media critic David Zurawik points out that a so-called documentary on George H.W. Bush, set to air this Sunday primetime on CNN, is bought and paid for by the Bush Library Foundation. One of the film's two producers is Mary Kate Cary, a former speechwriter for Bush when he was president in the early 1990s.
In other words: It's not so much a "documentary" in the classic sense as much a paid infomercial for the elder Bush.

The film, entitled 41ON41, features interviews with Bush besties like former Chiefs of Staff James A. Baker III and John Sununu, Press Sec. Marlin Fitzwater, Fox News chief Roger Ailes, sons Jeb Bush and George W. Bush, grandson Jeb Bush Jr., and Vice President Dan Quayle.
(The movie also includes positive interviews with President Barack Obama, and contemporary newsmen like Tom Brokaw and Brit Hume.)
Of course, CNN never presented this movie as an impartial exploration of the ex-president's life. The press release for the film was upfront about the Bush Library funding, including a gushing quote from the CEO. But Zurawik makes some strong points about how unseemly it is for a news network to give airtime to hagiographic works about serious political topics:
I can't wait for CNN to air "42ON42," the Bill Clinton love song paid for by the Clinton Foundation (and all the Wall Street money that funds it) and produced by Jim Carville. That's the one that will tell Clinton's history without any mention of the intern he took sexual advantage of through his position of enormous power, the young woman his wife now denigrates and blames for her husband's disgrace.
Some food for thought as cable news continues down the road away from news and into "Whatever Works" land.
Promo ad for the film below, via CNN:
— —
>> Follow Andrew Kirell (@AndrewKirell) on Twitter
Have a tip we should know? [email protected]