CNN Gets Its Groove Back with MJ Coverage – Most Trusted Name in Celebrity News?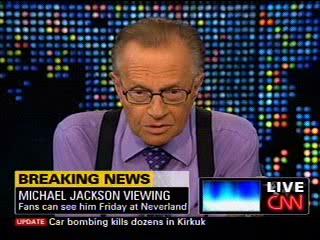 Make no mistake about it — CNN is owning the Michael Jackson coverage. Their lead anchor, Anderson Cooper is anchoring from LA, and the prime time shows have interrupted wall-to-wall Jackson coverage only long enough to update the Farrah Fawcett story. But at what cost?
If the only thing that matters is viewers, CNN's extensive coverage of the Jackson story would be a winning formula. After finishing the 2nd quarter as the 3rd place cable news network in prime time for the first time ever, CNN's Monday ratings were fantastic. While FNC and MSNBC spent minimal time covering the Jackson story, CNN led with the story on each show. The result: 2nd place in the A25-54 demo at 8 and 9pmET, and a big victory for Cooper at 10pmET. In Total Viewers, the network was 2nd at 9 and 10.
Last night saw more of the same for CNN — in fact, even more of more of the same. Campbell Brown at 8 and Larry King at 9 were all Jackson (with a sprinkling of Fawcett), as was the first three-quarters of Cooper's broadcast.
The sacrifice, of course, is CNN's slip into the infotainment beat. It couldn't be clearer than when Cooper, Dr. Sanjay Gupta and CNN's investigation reporter, Drew Griffin, all great journalists, were standing next to each other, discussing various Jackson storylines.
CNN has been very critical of its competitors recently for being "partisan" — with MSNBC on the left and FNC on the right. As the network has seen its own ratings slip, the criticism has only ramped up. But "partisan" is not the opposite of "infortainment."
As CNN attempts to pry itself out of the ratings ditch, will actual news be left behind?
—–
Have a tip we should know? [email protected]