CNN's Gupta Grills Sebelius Over Obamacare, Site Glitches, and Whether She'll Resign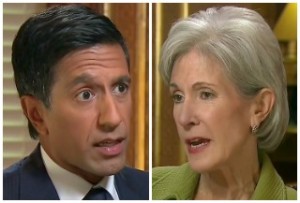 Secretary of Health and Human Services Kathleen Sebelius sat down with CNN's Dr. Sanjay Gupta on Tuesday night for an interview she spent the majority of defending the Affordable Care Act and the many glitches currently plaguing the health care law's website. Gupta repeatedly brought up the "frustration" people feel at not being able to access the site, pressing her on how many people have actually signed up and how long it would take to get fixed for those who haven't.
Gupta noted how there were concerns before the site's launch that it wasn't ready, and asked, "How was the decision made to still go forward?" Sebelius deferred, insisting that "we have a product" that works well and emphasizing how long people have been waiting to finally get health insurance.
Gupta pressed Sebelius on whether she personally finds the site challenging and exactly when President Obama was aware of the site's many problems. Sebelius said Obama was made aware in the "first couple of days," but not before then. And on the point of how many people have actually signed up, Sebelius merely said they will provide monthly enrollment figures.
Gupta brought up the calls of her resignation if these glitches persist. Sebelius said she hasn't given that a second thought, just keeping her focus on improving the site and working with contractors to bring their "A-team" to the table for this. Gupta asked, "Why didn't they bring the A-team in the first place?"
Gupta also asked whether the individual mandate would be delayed due to the glitches. Sebelius made it clear the website is not the only way people can sign up, and said "that isn't really the question right now."
Watch part one below, via CNN:
And part two:
[photo via screengrab]
— —
Follow Josh Feldman on Twitter: @feldmaniac
Have a tip we should know? tips@mediaite.com
Josh Feldman - Senior Editor