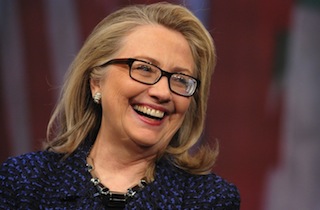 CNN's biopic about former FLOTUS/Senator/Secretary of State Hillary Clinton has been canceled, according to director Charles Ferguson.
The proposed film project had drawn howls of criticism from GOP groups, who argued that a movie about a 2016 candidate would effectively function as a campaign tool, and would represent a massive conflict of interest for the cable news network. RNC Chairman Reince Priebus threatened to boycott CNN for GOP primary debates if the network went ahead with the project.
However, according to Ferguson, that had nothing to do with the project's cancellation. Instead, it was "near total stonewalling" from Clinton and her associates. Ferguson wrote in a blog post on Huffington Post:
When I approached people for interviews, I discovered that nobody, and I mean nobody, was interested in helping me make this film. Not Democrats, not Republicans — and certainly nobody who works with the Clintons, wants access to the Clintons, or dreams of a position in a Hillary Clinton administration. Not even journalists who want access, which can easily be taken away. I even sensed potential difficulty in licensing archival footage from CBN (Pat Robertson) and from Fox. After approaching well over a hundred people, only two persons who had ever dealt with Mrs. Clinton would agree to an on-camera interview, and I suspected that even they would back out.

…After painful reflection, I decided that I couldn't make a film of which I would be proud. And so I'm cancelling. (Not because of any pressure from CNN — quite the contrary.
NBC's proposed Clinton film project is still, tentatively, a go.
[h/t HuffPo]
[Image via Haute Living]
——
>> Follow Evan McMurry (@evanmcmurry) on Twitter
Have a tip we should know? tips@mediaite.com