CNN Host Presses White House Spox on Yemen: 'How Can You Make These Claims?'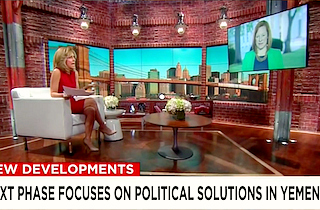 New Day host Alisyn Camerota challenged White House Communications Director Jen Psaki Wednesday morning to explain how Saudi Arabia could claim to have accomplished its military objectives in the operation it declared over yesterday, given the "chaos" still raging in Yemen.
Saudi Arabia had been bombing Iranian-backed Houthi rebels who overthrew the Yemeni government, a primary U.S. proxy against al Qaida. However, yesterday the U.S. endeavored to intercept an Iranian ship carrying weapons to the Houthis, while Saudi Arabia has already struck at the Houthis in retaliation for an attack this morning, only hours after declaring Operation Decisive Storm (blech) concluded.
"Just yesterday we were reporting on how the Iranians were sending a shipload of possibly weapons to the Houthi rebels," Camerota objected. "How can you be making these claims today?"
RELATED: Andrea Mitchell Grills Panetta on Yemen: 'What Kind of Success Story Is This?'
"We have our own resources in the region for a reason," Psaki said. "We're not going to get into a pattern of speaking on behalf of Saudi Arabia. Obviously the job is not done. There's remaining instability in the region, in Yemen. There's a lot of work that needs to be done, and we're going to be doubling down and continuing to work on that with our partners around the world."
Psaki insisted that the goal was to get the situation in Yemen to a political and diplomatic stage, which Saudi Arabia calls Operation Renewal of Hope. (Blech.)
Watch the clip below, via CNN:
[Image via screengrab]
——
>> Follow Evan McMurry (@evanmcmurry) on Twitter
Have a tip we should know? tips@mediaite.com