CNN's Kurtz: Is Colbert's Presidential Run Just 'Pure Political Theater' Or Something Else?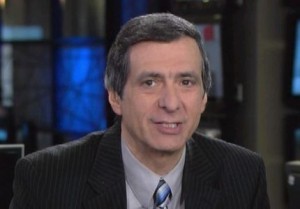 On CNN's Reliable Sources today, Howard Kurtz examined the latest details in the story of comedian Stephen Colbert and his former Super PAC. Many would dismiss his intent to run for president as a joke, but Kurtz wondered if there was an element of journalism in Colbert's methods, for by highlighting the absurdity of the Super PAC process on his show week after week, Colbert is bringing more attention to how the world of politics changed after the Citizens United Supreme Court decision.
Maggie Haberman understood the satirical message of Colbert's intentions, but expressed some concern that people unfamiliar with his work might mistake the intentions of his character as completely sincere, as well as missing the satirical nature of the new ad the Colbert Super PAC has bought airtime for in South Carolina.
RELATED: Public Policy Polling: Colbert Has Edge Over Obama With South Carolina Independents
Kurtz then played a clip of Colbert's appearance on This Week today, but instead of focusing on one of the bits where Colbert (in character) talked about the effect of the Supreme Court ruling on campaign finance and making a serious point or two, he played the clip of Colbert mockingly disavowing himself from Jon Stewart. (Kurtz explained this was because George Stephanopoulos was referencing an interview he conducted with Ailes a while back.) Glynnis MacNicol argued that the reason the media has now given a laser-like focus to Colbert is because of how he gets across serious points in entertaining ways that make it easier for audiences to absorb information.
Kurtz, however, appeared to take Colbert's actions more seriously than anyone else. He pointed out that the Super PAC has tens of thousands of donors, and wondered what kind of an impact the media could have in covering Colbert leading up to the South Carolina primary. Nia-Malika Henderson took the less serious route, saying she found Colbert's actions "just funny" and predicting his impact on the race will be minimal at best.
Watch the video below, courtesy of CNN:
Have a tip we should know? tips@mediaite.com
Josh Feldman - Senior Editor