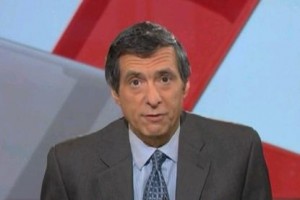 Tim Tebow is a football player very well-known for his Christian beliefs. And recently, he has begun to get some flack in the media for silent prayers after scoring a touchdown and for other public displays of his faith. You'll recall that he filmed an ad for Focus on the Family that took a very powerful stand against abortion that aired during the Super Bowl. On Reliable Sources today, Howard Kurtz examined media coverage of Tebow and how much of it was being influenced by religion as opposed to sports.
RELATED: Rick Perry Declares Himself 'The Tim Tebow Of The Iowa Caucuses'
CBS sports writer Gregg Doyel admitted that Tebow's situation is a unique one, but if religion was not involved he would just be another interesting football player. Dave Zirin, writer for Progressive, argued that Tebow has gotten a pass from the media for the most part. Zirin suggested Tebow's Super Bowl ad made him into something more than a football player, and under normal circumstances a public figure who puts himself out there like Tebow has would be subject to much media scrutiny.
Doyel stated tongue-in-cheek that Tebow should focus more on morally acceptable behavior among football players like dogfighting or drunk driving, but admitted that he personally doesn't see Tebow as someone he would want to be more like. Zirin admitted it was uncomfortable to see Tebow getting a pass while staging himself on the "right-wing edge of Evangelical politics."
RELATED: Jesus Politely Requests Tim Tebow 'Take It Down A Notch' On SNL
Unlike Zirin, who is more concerned with Tebow's politics, Doyel admitted he doesn't care about someone's politics if they happen to be a good football player. He suggested that most people who watch football don't care what their favorite athletes have to say off the field, they just want to kick back and watch the game. And when Tebow starts talking about God and his Christian faith, it might make some people uncomfortable.
Watch the video below, courtesy of CNN:
Have a tip we should know? tips@mediaite.com
Josh Feldman - Senior Editor