CNN's Howard Kurtz Attacks Reddit Showing That Either He Doesn't Get It, Or Just Likes Being The Stodgy 'Old Media' Guy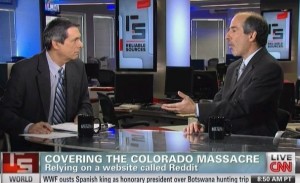 On CNN's Reliable Sources today, Howard Kurtz brought up how thoroughly the news following the Aurora shooting Friday has been documented and outlined on the popular website Reddit. What's most interesting about this segment is how many times Kurtz and his guest Paul Farhi downplayed the accuracy of the information posted with little support and seemingly little understanding of how to try to use the site as a news gathering tool.
RELATED: Colorado Theater Shooting Witnesses Take To Twitter And Reddit To Share Their Stories
Farhi told Kurtz that the crowdsourcing aspect of Reddit it what made it a popular go-to site for coverage. Users were digging through news articles, tweets, and whatever else they could get their hands on to and post it in the comments of a comprehensive timeline set up by the user integ3r (real name: Morgan Jones). Because of Reddit's character limit on self-posts, they are currently up to part 11 in the timeline.
Farhi and Kurtz took note of how Redditors who were at the scene were providing information, like citizen journalists. Even someone who claimed to be one of the 50 wounded people posted pictures directly to Reddit, which both men agreed was an advantage Reddit has that no conventional media outlet could provide.
Kurtz then went to the timeline Jones set up, and read some of the minute-by-minute updates provided. Farhi said that what Jones did illustrates all of the "flaws" of covering breaking news on Reddit.
"A lot of stuff that he was putting up there was absolutely inaccurate, and it was real-time, yes, and it was raw, and it was on the spot, but it was inaccurate in many cases, and that's the problem of this kind of form of journalism."
Four thoughts:
One, why not provide a list of what Reddit got right and what it got wrong? Because call me old-fashioned, but I always like to have my facts corroborated with evidence to back it up.
Two, when Farhi says that there was all this inaccurate information, is he referring to the actual timeline, or just things random users were posting? Because I've been following Reddit's coverage too, and not everything that gets suggested or posted ends up in the timeline. As far as I can tell, Jones has been carefully vetting all the information before posting updates.
Three, no one doubts that the site had some information from people who were at the scene as it happened. What news organization can claim that?
And four, Farhi said all of this on a network that was almost literally screaming "DING DONG THE MANDATE IS DEAD" for nine whole minutes before finally correcting themselves.
Kurtz continued along the "let's lecture the internet kiddies about journalism" line.
"So when people read something on Reddit or Twitter, especially in this real-time situation… they have to take it with a grain of salt that the information may be very valuable, but hasn't been vetted the way it would be by – well, not in every case by news organizations, we saw with ABC's Brian Ross, but it hasn't gone through some editorial process."
Hey, just for fun, let's pick some little factoid about the news coverage and see how well Reddit did. Hmm, how about Holmes' AdultFriendFinder account? We cautiously ran a story on the account two days ago, giving due credit to its discovery on Reddit and laying out what we knew and didn't know about the veracity of the story. It really wasn't that hard. Well now it has been confirmed as Holmes' profile.
Farhi said that Redditors were helping work on the "first draft of history," which would be edited and followed up on by actual journalists. Even when Kurtz acknowledged that Reddit has a few advantages over traditional media, Farhi insisted that Reddit can never equal what the mainstream media is capable of.
"What the mainstream media provides in this kind of ecosystem is the notion that we will vet the information, we will tell you what's right and what's wrong, we won't print rumors, we won't tell you things to be the result of the heat of the moment."
That may be true, but the reverse applies as well. The mainstream media can't offer what Reddit and other user generated sites do either.
Kurtz jumped in to say once again that the mainstream media sometimes does screw up, to which Farhi noted that it happens less often in actual news organizations. Which brings me to another point about the Reddit coverage. Some of the errors were likely a result of errors on the part of established media types, because that's who Redditors are often monitoring. They're examining local Colorado news outlets, national newspapers, cable news, etc. for information they can throw into the timeline. A lot of their information is only as accurate as what they're being provided in media reports. Like, say, if a well-respected cable news outlet erroneously reports that a Supreme Court decision struck down something that they didn't strike down.
Look, I'm not having a go at CNN. They screwed up, they apologized, they did an internal investigation, they sorted everything out, and moved on. Hell, Farhi doesn't even work for CNN, he was just on the network. But the level of condescension people in the established media seem to have for crowdsourcing and citizen journalism is amazing. Yes, the internet is a haven for lies and trolls, and it's a great way to spread those lies and feed those trolls. But God forbid the one time someone on the internet tries to do it right, he gets due credit for acting more like a journalist than some actual "journalists."
Watch the segment below, courtesy of CNN:
—–
Follow Josh Feldman on Twitter: @feldmaniac
Have a tip we should know? tips@mediaite.com
Josh Feldman - Senior Editor