CNN's Howard Kurtz Grills Daily Caller Editor Over Media Matters Investigation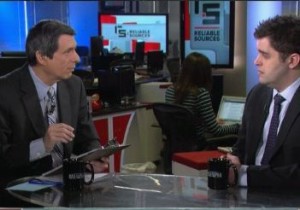 Yes, the ongoing saga continues between The Daily Caller, Media Matters, and possibly Fox News. Just to recap: Tucker Carlson, who runs the Caller and works for Fox News, launched an investigation into Media Matters, a big target of Fox News. The investigation turned up an internal memo from Media Matters saying they should hire private investigators to spy on the personal lives of FNC personalities. On CNN's Reliable Sources today, Howard Kurtz talked about the story with Caller editor Vince Coglianese.
RELATED: Fox News: There Is 'Absolutely No Coordination' With Daily Caller On Takedown Of Media Matters
Coglianese was disturbed by the fact that Media Matters was intending to go after regular Fox News staffers, instead of just the on-air personalities. But as Kurtz carefully laid out, there is no physical evidence anything of this kind took place, it's merely a memo suggesting what they could do. Kurtz also noted he tried to invite someone on his show from Media Matters, but he was turned down.
Turning back to the discussion, Kurtz took Coglianese to task for a part of the Caller report which quotes anonymous sources as saying major publications like The New York Times are taking their cues from Media Matters. Kurtz offered up a hypothetical scenario where someone might accuse the Caller of doing the bidding of an influential conservative billionaire, but Coglianese pointed out that if accusations were ever made, the first thing they would do is deny it. And according to him, that's something Media Matters has not done.
RELATED: Tucker Carlson To Bill O'Reilly: Media Matters 'Basically Writes' MSNBC Primetime
Kurtz shot back by saying that there was no evidence that the Times or MSNBC were guilty of this. Instead of just quoting the anonymous sources, Kurtz said, the Caller should have taken the initiative and laid out a series of examples where what certain news outlets reported on lined up perfectly with stories Media Matters has covered. And, of course, the other possibility is that sometimes news organizations just use material from sites like Media Matters or NewsBusters (does anyone doubt Fox News researchers have not done this at least once in a while?).
Watch the video below, courtesy of CNN:
Have a tip we should know? tips@mediaite.com
Josh Feldman - Senior Editor