CNN's Howard Kurtz: MSNBC's Tamron Hall Was 'Being Insulting' To Tim Carney By Cutting Him Off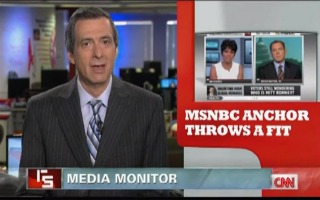 On MSNBC on Friday, anchor Tamron Hall and Washington Examiner columnist Tim Carney engaged in a heated debate which resulted in Hall cutting Carney off and saying he was insulting her and her program when he accused her of playing a "media trick." CNN host of Reliable Sources Howard Kurtz said it was Hall who was "being insulting" to Carney.
RELATED: Tamron Hall Reams Tim Carney, Cuts His Mic For Accusing Her Of 'Media Trick'
On Friday, Hall asked Carney to weigh in on the Washington Post's story about a 1965 incident in which Republican presidential candidate Mitt Romney allegedly forcibly cut a fellow prep school student's hair. Carney accused Hall of using a "media trick" which gives that story more coverage than it deserves. Hall cut Carney off for saying that and said: "You don't have to answer a single question I ask you." She went on to say that Carney is "not going to insult me, you're not going to insult the network" and cut off his response saying Carney was "done."
Kurtz played that clip of the contentious interview between Hall and Carney, and said he believed that Carney was justified in saying what he did during that exchange.
"I'm sorry, it was Tamron Hall who was being insulting by silencing him," said Kurtz. "Carney was perfectly entitled to say that, in his opinion, the story was being hyped."
Kurtz concluded by asking rhetorically, "does Hall only want guests who agree with her handling of every story?"
Watch Kurtz's opinion segment below via CNN:
Have a tip we should know? tips@mediaite.com