CNN's Howard Kurtz On Trayvon Martin: How Can MSNBC Allow Al Sharpton To Cover This?
Howard Kurtz On Trayvon Martin: How Can MSNBC Allow Al Sharpton To Cover This?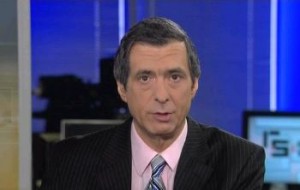 On CNN's Reliable Sources today, Howard Kurtz called out MSNBC Anchor Al Sharpton for having it both ways on the Trayvon Martin story: covering it on his program, PoliticsNation, and then being a part of a rally for it in Florida, publicly calling for George Zimmerman to be arrested.
RELATED: Al Sharpton Outraged Over Handling Of Trayvon Martin Case: Body Left In Examiner's Office 'Like He Was Nothing'
Kurtz first brought up the discrepancy in coverage between Fox News and MSNBC. Derek McGinty, anchor at WUSA9 TV, said he had to argue with people in his newsroom that it was a worthwhile story to cover because "people just want accountability." The cops not arresting Zimmerman was their obligation under the law, but people still want someone to be held accountable for the actions that took place.
Then Kurtz turned specifically to how Sharpton has been covering the case, describing him as a "major African-American activist in this country." Kurtz played a series of clips showing Sharpton speaking at the Trayvon Martin rally in Florida, then filming his show near the site of the rally, then speaking again at the rally, effortlessly switching between activist and TV host. Kurtz said that Sharpton was asking people to donate money to the cause, and even went down to the Justice Department with the Martins.
Lauren Ashburn struggled to figure out why Sharpton was allowed to, essentially, cover himself on his own show. She did add that Sharpton has never pretended to be a journalist, and MSNBC knew what they were getting when they hired him as a personality, but Kurtz still thought something smelled rotten at MSNBC.
"It seems to me MSNBC can say, 'Okay, this is such an important case you can go and be an activist and you won't do your show on the subject. Or you can do your show on the subject but don't be standing with the parents at the rally and accompanying them to the Justice Department.'"
Eric Deggans, a media critic for the Tampa Bay Times, said he's always been concerned with Sharpton's role at the network, and this particular situation makes things difficult because MSNBC has an obligation to cover the story because it's news. So having one of their hosts injecting themselves into the story is a problem. Deggans also brought up Zimmerman, and whether he could feel like he could get a fair shake from NBC News or MSNBC if he went on for interviews.
RELATED: Al Sharpton Interviews Trayvon Martin's Father In Emotionally Gripping Segment
Watch the segment below, courtesy of CNN:
Have a tip we should know? tips@mediaite.com
Josh Feldman - Senior Editor