CNN's Howard Kurtz Tries Too Hard In Calling Out Fox News & MSNBC For Trayvon Martin Coverage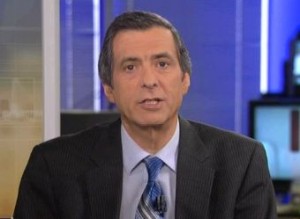 In the past week of the media covering Trayvon Martin, Howard Kurtz observed that MSNBC and Fox News seemed to be acting in lieu of the prosecution and the defense, completely leaving the justice system by the wayside. Hosts on the liberal network are taking a much more aggressive line, especially in Lawrence O'Donnell's now-infamous interview with George Zimmerman acquaintance Joe Oliver, while the more conservative network has been more open to the idea that Martin may have done something to initiate an attack of self-defense.
RELATED: Divisive: How The Conservative Media Has Been Covering Trayvon Martin
Kurtz asked if the media coverage of the Martin has "deepened the polarization surrounding this tragedy," telling the panel that it's clear people in the media have taken sides on this case. Former CNN Washington Bureau Chief Frank Sesno said that the real journalism necessary in this case is being thrown by the wayside in favor of sensationalism and hype. And while more evidence, like the Zimmerman tape released last week, would normally make cases like these clearer, it has only caused more yelling on both sides about what really happened.
Callie Crossley brought up the 911 call that turned out not to be from Zimmerman in the first place, and then explained that she thought the amount of passion throughout the media was because of the connection they felt with it. Some could identify with Zimmerman because to them, he's just a guy who wanted to try and protect his neighborhood, while others who have witnessed racial profiling firsthand have been more than willing to speak out on the Martin family's behalf.
Kurtz asked if, as Bill O'Reilly thought last week, the media coverage has been "inflamming potential violence." Sesno brought up Al Sharpton's participation in a Martin rally and then going on the air to report on the rally. And following up on his scrutiny of Sharpton's conflict of interest from last week, Kurtz noted the public response from MSNBC president Phil Griffin, who said Sharpton wasn't hired to be a "neutered" news presenter.
But while Kurtz may have a point with some of the coverage from both networks, it's not like MSNBC and Fox News as a whole are doing this. There is no exact narrative either network is following here. Kurtz didn't really use too many clips from either network in the package he claimed was evident of either one being too streamlined in its advocacy in this case. You can make this argument for Sharpton or Sean Hannity, but in the case of Fox News, it's really been less of a defense of Zimmerman and more of a plea to just let the justice system do what it does best.
And, quite honestly, Fox News hasn't exactly been as gung-ho on this as the hosts at MSNBC. O'Donnell, Sharpton, and Ed Schultz have been sinking their teeth into this story for over a week, though Rachel Maddow has exhibited some restraint. You can say that the conservative blogosphere has been somewhat doggish on this story, but on Fox News in particular, it really hasn't been that streamlined. Again, for the most part, the network has been of the "wait and see" mindset.
RELATED: Piers Morgan Interviews George Zimmerman's Brother About Night Of Trayvon Martin Shooting
And what about CNN? Not once did Kurtz talk about his own network's coverage of the case. There have been many moments where the network has proved to be beyond the politicization of this tragedy (Soledad O'Brien's Beyond Trayvon special, for one), but what about Piers Morgan? His coverage of the case resulted in Touré publicly calling him out on Twitter and then confronting him on his own show. Was that not a good topic for this discussion?
Watch the video below, courtesy of CNN:
Have a tip we should know? tips@mediaite.com
Josh Feldman - Senior Editor