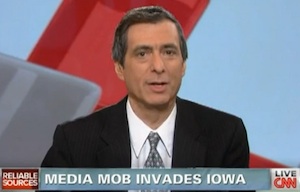 On CNN's Reliable Sources, host Howard Kurtz questioned why the news media took so long to scrutinize Ron Paul's controversial newsletters.
"I think for a while the media — we've been focused on the horse race," the Washington Post's Nia-Malika Henderson observed. "As you mentioned, everything happened this way: Every time there was a new front-runner, and we've had almost five or six front-runners, the media would then start more dogged scrutiny of their record. I think that's what happened. A lot of this stuff had already been out there. But I think when Ron Paul started to do so well, polling well in Iowa, doubling a lot of support from 2008, that's when the spotlight finally fell on him. I will say in talking to people out of his rallies, very raucous rallies, he's had a lot of people, hundreds of people there. They don't seem to mind some of this rhetoric. They feel like it's a little disturbing but not a deal-breaker in terms of how they feel about supporting him."
Kurtz asked The New York Times's Michael Shear why his paper waited until last week to publish its first piece on the newsletters.
Shear put his blame on the struggling press industry for the New York Times' lateness on getting to the story.
"I think there's some legitimate criticism leveled at the press for waiting, for not maybe putting this stuff out earlier," Shear conceded. "Look, you've covered for years the problem of dwindling resources the media has, a struggling industry. I think in that context, news organizations have to make some decisions about where they put their resources. It makes sense to put your resources, investigative resources of which we don't have all that many in the places where it looks like it's going to make the most sense, which is the people that are actually getting traction."
Watch Kurtz's criticism of the news media for failing to expeditiously report on Paul's newsletters below:

Have a tip we should know? tips@mediaite.com