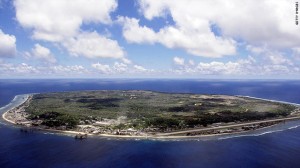 So, Nauru, we need to talk.
The tiny island nation, home to just 9,267 people, is known as the "world's smallest republic." It's also got a bit of a cold shoulder for CNN's user-generated "iReport" program, which has hit a major milestone this Monday, as reported on the iReport blog: "As of Monday morning, we have approved iReports from 193 of the 194 countries considered independent nations by the U.S. State Department."
Catch that? 193 out of 194. Care to guess which nation couldn't be bothered to send in a lousy cell phone video?
What's your deal, Nauru?

For CNN–between you and me, I think their feelings are hurt–getting Nauru onboard has now become a "global challenge." As in, hey, people of Nauru, could one of you even take a minute out of your busy lives to simply take a snapshot of your street for us so we can cross the last nation off our list?
As iReport begs says on their blog:
Only Nauru is left! We want to hear from citizens of, or visitors to, this tiny island in the South Pacific, halfway between Australia and Hawaii. Send us a snapshot of life in Nauru — the local culture, food, architecture, natural sites, or an unusual event happening there.

The country, population 9,267, was dubbed "Pleasant Island" by European sailors in the 18th century. But the country has struggled since then. While it once enjoyed great wealth made by mining phosphate for fertilizer, those resources are nearly exhausted.
Yup. They'll even take a vacation photo from a visitor to Nauru. So that could be you. If you've been there–or have plans to go–send your stuff to CNN and cheer them the heck up. Not sure what to shoot? How about this story for a budding iReporter: What is it with you Nauruans? Don't you trust the Most Trusted Name in News?
Have a tip we should know? [email protected]