CNN's Jack Cafferty Advises Romney To Explain Mormonism To Nation, Advised Precise Opposite Last Year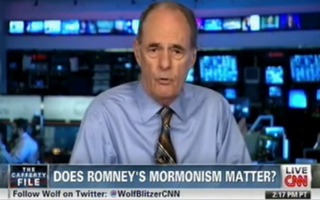 On Tuesday's "Cafferty File," CNN contributor Jack Cafferty said that likely Republican presidential nominee Mitt Romney needs to embrace his Mormon faith and prepare an address, similar to one he gave in 2008, in order to clear up misconceptions about the religion that are still held by many Americans. Oddly, Cafferty he gave a similar presentation less than a year ago and came to the opposite conclusion – that a speech Romney gave in 2008 could be blamed for ending his presidential campaign in the last cycle.
RELATED: Romney Campaign Responds To Ted Nugent's Remarks
Now that Mitt Romney is likely the Republican nominee he may begin talking about his Mormon faith. Politico reports a lot of republicans think he should embrace his Mormonism publicly so people can better understand him.

Romney got pushback from evangelicals who questioned whether Mormons believe in Jesus Christ. One Texas Baptist supporter called it a cult.

Mormonism is a big part of who Mitt Romney is. He traveled to France on a two-year mission for the church as a young adult, and who raised his five sons as Mormons and has held several church leadership positions. Nevertheless, Romney doesn't really like to talk about it.

In the 2007 presidential campaign, Romney addressed his religion in his "60 minutes" interview and in a speech called "Faith in America." His aides say he has no immediate plans to make another formal speech at least for now, but maybe he should. it would help clear up lingering questions about Mormonism, a religion that still seems odd and insular to many.

Mormonism has a tainted past that includes racism and polygamy. a CNN/ORC poll taken last October shows 17 percent of Americans would be less likely to vote for a presidential candidate who is a Mormon. That's not a small number.

Of course, religion and politics have always been a difficult equation. A lot of Americans thought JFK would never get elected president in 1960 because he was a Roman Catholic and we've never had a Catholic president. Here's the question: Mitt Romney is a Mormon. How much will it matter?
In July, 2011, Cafferty delivered a similar "Caffety File" on Romney's Mormonism, but came to nearly the opposite conclusion. In that report, Cafferty said that Romney's "Religion in America" speech was ultimately responsible for the former Massachusetts governor's loss to Sen. John McCain in the Republican primaries in 2008.
It's a church many Christians, particularly evangelicals, are skeptical of. Most people don't know much more about it beyond the church's former ties with polygamy. But whatever people know or don't know about Mormons, they aren't necessarily trustful of them. According to a Gallup poll, 22 percent of Americans say they would not vote for a Mormon for president, even if that candidate represented the voter's own party.

Huntsman is reportedly the less religious of the two. He told Fortune magazine last year, "I can't say I'm overly religious. I get satisfaction from many different types of religions and philosophies."

Romney, on the other hand, is more active in his church. He was once a lay bishop of Massachusetts' temple of the Church of Jesus Christ of Latter-day Saints. He spoke openly about his religion during his 2008 run for the presidency, and critics feel that speech ultimately killed his chances (Emphasis added).
Cafferty also fails to note that he cites a CNN/ORC poll from October of 2011 that shows 5 percent fewer Americans say that they would not vote for a Mormon than a Gallup poll from the summer of that year – suggesting, albeit across polls with differing methodologies, that Americans are warming to Mormonism.
Watch the "Cafferty File" below via CNN:
Have a tip we should know? tips@mediaite.com