CNN's Jake Tapper Dismisses GOP Rep. Peter King's 'Slippery Slope' Demand NSA Journalists Be Prosecuted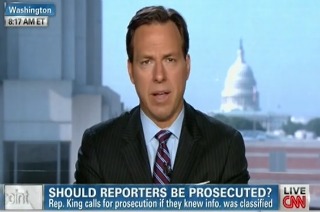 On Tuesday, Rep. Peter King (R-NY) told CNN host Anderson Cooper that he believed the journalists who broke the story relating to the National Security Agency's communications monitoring programs should be prosecuted. CNN host Jake Tapper addressed this claim on the network's morning show Starting Point where he dismissed King's claim saying that it was simply not a feasible course for the government to pursue.

Asked if he expects to see charges filed against the journalists who broke the story relating to the NSA's information monitoring programs, Tapper replied that he did not.
"The Obama Justice Department has shown a willingness to go after leakers more aggressively than previous presidents," Tapper added. "In fact, they've used the Espionage Act more times than all other presidents combined to go after leakers."
RELATED: Glenn Greenwald To Jake Tapper: Leaks Have Damaged Reputations Of Politicians, Not National Security
He noted that the DOJ has named journalists, superficially Fox News' James Rosen, as criminal co-conspirators while researching sensitive stories, but they have stopped short of prosecuting any reporters. Tapper said he did not expect to see any journalists prosecuted because it creates "a slippery slope."
"Do you then go back and prosecute everybody who published any of the Wikileaks?" he asked. "Do you prosecute every journalist who publishes any sort of national security story?"
Asked about Director Of National Intelligence James Clapper's claim that journalists who pursued this story threatened national security, Tapper played a clip of Greenwald saying that the NSA scandal threatens nothing but the reputations of politicians.
Watch the clip below via CNN:
> >Follow Noah Rothman (@NoahCRothman) on Twitter
Have a tip we should know? tips@mediaite.com