CNN's Jake Tapper Makes Important Clarification About Bergdahl's Fellow Soldiers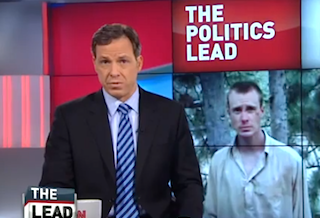 CNN's Jake Tapper has been at the center of the Bowe Bergdahl prisoner swap story since it broke over the weekend. He was the first major reporter to speak to some of Bergdahl's platoon-mates, who each labeled the just-released prisoner of war a "deserter." Months earlier, he was lamenting how "undercovered" the story had been on Reliable Sources. As the story continues to be politicized, Tapper took to Twitter ahead of his 4 p.m. ET broadcast Wednesday to clarify some things about his reporting.
Tapper posted this series of tweets on the subject early Wednesday afternoon:
Every one of the soldiers Ive interviewed thinks the president was right to try to get Bergdahl back to the U.S.

— Jake Tapper (@jaketapper) June 4, 2014
Most of them havent offered an opinion on whether the swap was a good one. With me, theyve largely tried to avoid politics.

— Jake Tapper (@jaketapper) June 4, 2014
The reasons they seem to be coming forward :
1) they think he should face justice
2) they dont think he deserves a hero's welcome
full stop

— Jake Tapper (@jaketapper) June 4, 2014
The torrent of political derp from L and R surrounding the soldiers' claims about Bergdahl himself is unreleated to the soldiers.

— Jake Tapper (@jaketapper) June 4, 2014
The assumption made by some in the media, and especially by those on the right, is that because these soldiers are angry at Bergdahl for allegedly walking off the base in Afghanistan they also think it was wrong for the U.S. to trade the release of five Taliban detainees to ensure his safe return home. What Tapper is trying to clarify here is that in his experience that has not been the case.
While many media outlets continue to try to define Bergdahl with labels like "hero" or "deserter," what Tapper and the soldiers he has spoken to understand is that it's not that simple. It is quite possible that he deserted his unit and deserves to be charged for that violation. But that does not mean it was wrong for the Obama administration to do everything in their power to bring him home from captivity.
[Photo via screengrab]
— —
>> Follow Matt Wilstein (@TheMattWilstein) on Twitter
Have a tip we should know? tips@mediaite.com