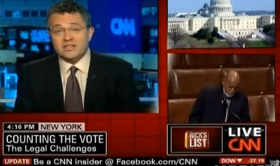 Bad news for Republicans should they be counting on using the Supreme Court as a last resort to block the Senate health care reform bill. Jeffrey Toobin visited Rick Sanchez today to talk about the chances of success Republicans will have if they try to legally oppose a "deem and pass" vote that would indirectly put the bill on the President's desk, and he didn't waste any time in telling the GOP that, quite simply, it's not going to happen.
Having watched the Democrats collect the required number of votes to pass their highly contested health care reform bill, Sanchez asks Toobin whether the two major legal options the Republicans have before them to defeat the bill outside of Congress– suing against the bill itself and suing against a "deem and pass" vote– have any possibility of keeping the bill from becoming law. On the first option, he noted that "they can certainly sue; anyone can sue, this is America. But I think it is extremely unlikely this [health care] law will be declared unconstitutional."
And as for the indirect "deem and pass" vote, he called it "clearly constitutional" and pointed out that Democrats have tried in the past to overrule Republicans similarly. "What happened when the Democrats tried it? They lost."
Our sources indicate that the House will use deem and pass to get the bill through because they lack the votes to do so without it, and while all precedents point to a legal battle over "deem and pass" leading nowhere, the chances Republicans will let this go quietly are slim to none.
Toobin's commentary below:

Have a tip we should know? tips@mediaite.com