CNN's Jessica Yellin Digs into GOP Rep. Who Flipped on Supporting Syria Strike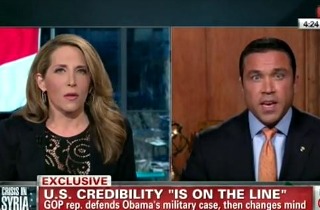 On Thursday, CNN reporter Jessica Yellin grilled Rep. Michael Grimm (R-NY) during an extensive interview regarding his support for intervention in Syria. On Monday, Grimm said on CNN that he would support a strike to maintain America's credibility. Three days later, however, he changed his mind and told Yellin that America's credibility in this instance can no longer be regained. The interview became tense as Yellin battled with Grimm over his decision.

Yellin asked Grimm why he changed his mind about the need to strike Syria when he was supportive of such a strike "just 72 hours ago." After playing a clip of Grimm telling CNN's Wolf Blitzer on Monday that it was important to protect America's credibility by following through with a strike, Yellin asked Grimm what made him change his mind.
"A strike is no longer going to give us the credibility that we should have been able to get back," Grimm said. "I think at this point the world is looking at the indecisiveness, they're looking at how the president has bungled this, and now we can no longer get our credibility back."
RELATED: Must Watch: Ron Paul Squares Off Against MSNBC's Alex Wagner in Explosive Interview
Yellin again asked what circumstances have changed in the last three days. "I think the president has started to backtrack on his own words," Grimm added. "The other thing is, in the last 72 hours, none of our allies have stepped up. I was expecting the president to be able to build a coalition around this."
Yellin countered that none of that occurred in the last three days. Grimm disagreed with Yellin's assertion. He added that the resolution authorizing force which was introduced in the Senate allowed for boots on the ground. Grimm said that this is "untenable for the United States."
"Once you lose your credibility, after a certain point, you can't get it back," he argued.
"Are you at all concerned that the president, at least, still wants to strike and, sir, you might look indecisive?" Yellin asked.
"No, not at all," Grimm replied. He detailed the ways in which the president has "backed off" many of his assertions about what a Syria strike scenario would look like.
Yellin asked if any of Grimm's Staten Island constituents helped change his mind. Grimm replied that he was moved to rethink his support for intervention after attending the funeral of a veteran who lost his life in Afghanistan.
"My own confidence in the administration has been dwindling down in the last 72 hours," Grimm revealed.
Yellin pressed again about whether Obama's insistence that he did not draw a "red line" moved him to withdraw his support. The two spoke over each other as Grimm repeated his insistence that the administration's actions have forced him to change his mind.
Watch the clip below via CNN:
[Photo via screen grab ]
— —
> >Follow Noah Rothman (@NoahCRothman) on Twitter
Have a tip we should know? tips@mediaite.com