CNN's Jessica Yellin Presses Jay Carney On IRS Scandal: Sounds Like Admin 'Might Be Hiding Something'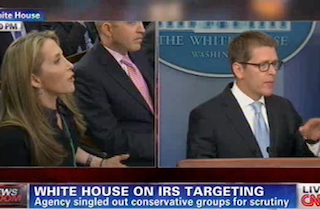 White House Press Secretary Jay Carney was predictably grilled during today's briefing — in light of the recent stories involving the IRS and the Justice Department's seizing Associated Press phone records. CNN's Jessica Yellin was among those who pressed Carney, especially on the IRS issue, explaining how it may seem like the White House has something to hide.
"You have to understand and hear how it sounds like the administration might be hiding something," Yellin remarked before going into the White House's changing story regarding the IRS. "Can you just say plainly, does the president believe they're being truthful? And does he think that the leadership there needs to change?"
Yellin and Carney then went back and forth as the latter uttered the phrase "if the reports are true" — prompting Yellin to remind him that the IRS itself admitted to the selective targeting. Carney said President Obama is concerned about reports but that "rushing to conclusions" would be "inappropriate for a president to do."
"He finds the suggestions of that to be outrageous," Carney said, as Yellin pressed him on the "consequence" of Obama's outrage. "How could he possibly say what the consequence will be before we know what the facts are?"
Yellin then moved on to the issue of the Justice Department and the AP, questioning whether the president is concerned about the "breadth and depth" of the DOJ's seizures of phone records. Obama's "prosecuted, in this administration, more people for leaks than every other president put together," she reminded.
Carney — who's likely not enjoying his job much recently — replied with a generic statement about Obama's commitment to the First Amendment and an "unfettered" press. "He also believes strongly, as a citizen and as president, in the need to ensure that classified information is not leaked because it can endanger our national security interests," Carney added. "It can endanger american men and women around the world."
Not being able to comment on an ongoing investigation, Carney declined to offer specifics even when Yellin questioned the president's concern about precedent and Attorney General Eric Holder's legacy.
Watch below, via CNN:

Have a tip we should know? tips@mediaite.com