CNN's Jim Acosta 'Pre-Answers' Potential Objections to Obama Staying in Cuba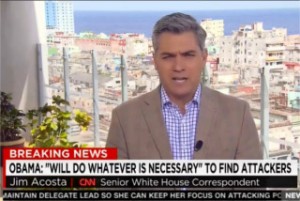 CNN's Jim Acosta, reporting on the president's historic visit to Havana, preemptively answered objections that President Barack Obama was not altering his itinerary — remaining in Cuba and continuing on to Argentina — in the wake of the terrorist attacks in Brussels, Belgium Tuesday morning.
Acosta said:
People might be asking, "Why is the president continuing on with this trip?" You talk to White House officials about this. And here we go once again with the president traveling overseas and yet the specter of terrorism is hanging over his presidency, hanging over his trip. What the White House will say is that he has Air Force One, he has all the trappings of the presidency. he can stay in contact with top counter-terrorism officials 24 hours a day, seven days a week. There are others who might say well, 'Why doesn't the president go immediately over to Brussels, Belgium?' To answer that question in advance, I've heard this one before from White House officials — they'll say, listen, the president cannot just go to a breaking news situation with the security footprint that comes with the President of the United States. It is just too massive and too disruptive and would get in the way of the first responders there in Belgium. To sort of pre-answer a couple of the questions people might ask about why the president is doing what he's doing, that is essentially what the White House will say once that question is asked.
Have a tip we should know? tips@mediaite.com