CNN's John Avlon on Heated Obamacare Panel: GOP Trying to 'Extort the President'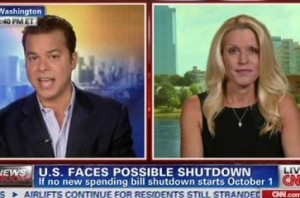 The impending threat of a government shutdown over defunding Obamacare is causing much angst and anger in Washington, and with the deadline less than two weeks away, the desperation on both sides is reaching a fever pitch. On CNN Saturday, contributor John Avlon clashed with conservative radio host Alice Stewart over the defunding plan, arguing that the Republicans are trying to "exort the president" at this point.
Stewart insisted the House vote on the government funding bill was bipartisan, touting how a majority of the American people are opposed to Obamacare. Avlon laughed and told Stewart her argument was nothing but spin.
"Let's just have a reality check here. This is not a pure vote to fund the government, this is a vote to try to extort the president into undercutting his signature law, which every person living in reality knows isn't gonna happen."
He charged that conservatives are "deeply afraid to own the implications of this vote," and so instead are pushing the "delusion" that the onus of a government shutdown is not on them. Stewart stuck to her guns, saying the Democrats are the ones who will "decide to shut down the government," adding that there are Senate Democrats in red states who could join the fight.
Avlon insisted the "arrogance and overreach" is going to come back to bite the Republicans, who "know they're playing with fire."
Watch the video below, via CNN:
[photo via screengrab]
— —
Follow Josh Feldman on Twitter: @feldmaniac
Have a tip we should know? tips@mediaite.com
Josh Feldman - Senior Editor