CNN's John Avlon Rips Apart Palin For Using Consultants On 'Every Issue Imaginable' Despite Railing Against Them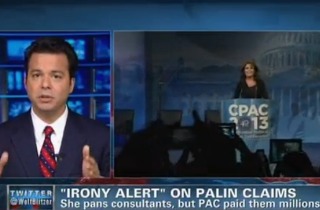 During her CPAC speech earlier this month, Sarah Palin railed against political consultants, diminishing their value and emphasizing a more grassroots form of political activism. Unfortunately for Palin, as CNN's John Avlon reported this afternoon, the former governor herself has spent a "vast amount of money" on consultants.
"The next election is 20 months away. Now is the time to furlough the consultants, tune out the pollsters, and send the focus groups home, and toss the political scripts," Palin told the Conservative Political Action Conference. "Because if we truly know what we believe we don't need professionals to tell us."
"There's a big irony alert that should be posted over her speech now," Avlon told host Wolf Blitzer this afternoon. "In addition to it being a very well-written speech by a speechwriter, what the FEC filings for her PAC show is that the vast amount of the money raised and spent in the last election cycle was on consultants. It did not go to candidates. In fact, less than $300,000 went to candidates. She spent more on her top consultant than she did on all the candidates she doled out money to."
"There are consultants for every issue imaginable in SarahPAC," he added before suggesting that when people donate to PACs like Palin's, they "think they're getting political action," but really all they're doing is "feeding a whole subcategory of a consultant industry out there, the partisan economy."
Avlon then ran through the list of various consultants employed by Palin's political action committee: issue consultants, management consultants, logistical consultants, speechwriting consultants, grassroot outreach consultants (an "oxymoron," remarked the CNN contributor).
Asked whether she has substantial influence within the GOP anymore, Avlon said that Palin is still "an influencer," but not the "king maker" she believes herself to be. "We're somewhere between business and racket right now," Avlon concluded of Palin's PAC model.
Watch below, via CNN:
— —
>> Follow Andrew Kirell (@AndrewKirell) on Twitter
Have a tip we should know? tips@mediaite.com