CNN's John King Blasts GOP Rep. Peter King For Saying Reporters Should Be Charged Over NSA Leaks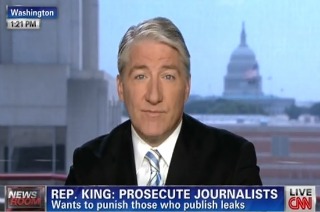 CNN reporter John King joined his colleague Jake Tapper in dismissing the claims by Rep. Peter King (R-NY) that the journalists who vetted and reported leaks by Edward Snowden relating to the National Security Agency's surveillance practices should be prosecuted. King explained concisely why the notion that reporters should be liable for leaking state secrets when they have cooperated with the government during the vetting process did not make sense.

CNN anchor Suzanne Malveaux played a clip of King saying that there is a moral and legal obligation to prosecute reporters who publish leaks that endanger national security.
King said that the Republican's comments were "chilling" to journalists.
King said he could not speak to the protocols that The Guardian's journalists observed prior to publishing their stories about the NSA communications monitoring practices, but he could say that The Washington Post worked with the government to make sure they were not jeopardizing the safety of American citizens.
RELATED: GOP Rep. Peter King To Anderson Cooper: Journalists Should Be Punished For Exposing Classified Info
"They talked about how Mr. Snowden approached them back in February," King said of The Post after the NSA leaker came forward. He said that Snowden wanted The Post to publish a variety of details that they refused to do before checking with federal officials.
"If you read The Washington Post account of how they handled this, it strikes you as quite responsible," King asserted. "There is no evidence of any criminal activity."
"If a reporter breaks the law, that's one thing," he concluded. "If a reporter gets a leak of classified information, handles it in a responsible way, and then publishes a story that puts out information but perhaps withholds some of it after negotiations with the government, that's called a reporter doing their job."
"Well said," Malveaux replied.
Watch the clip below via CNN:
> >Follow Noah Rothman (@NoahCRothman) on Twitter
Have a tip we should know? tips@mediaite.com