CNN's Ken Jautz On Network's New Lineup: 'First Rate Reporting, Wide Range Of Opinions'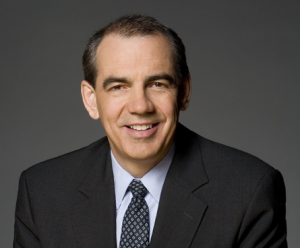 At CNN, "outspoken" is out, and reporting is in. The network unveiled a new lineup Wednesday that will debut in the fall, moving Anderson Cooper to 8 p.m., bumping Eliot Spitzer and bringing in Erin Burnett. "The overall lineup is meant to underscore CNN's commitment to quality journalism," said CNN executive vice president Ken Jautz in an interview with Mediaite. In each hour of the new lineup, Jautz says, CNN will offer "first rate reporting" and a "wide range of opinions."
Moving Cooper to 8 p.m. (with AC 360 re-airing in its current slot at 10 p.m.) is a statement, Jautz says, of what the network stands for. "Makes sense to put your flagship program at the marquis hour." AC 360 has had notable ratings success in recent months, with an emphasis on international reporting.
It's a break from the stategy set in place last year under then-boss Jon Klein, who hired Spitzer and co-host Kathleen Parker for the 8 p.m. hour. At the time, Parker/Spitzer was billed as "a lively roundup of all the best ideas–presented by two of the most intelligent and outspoken figures in the country," said Klein.
"Outspoken" has clearly run its course. Parker was cut from the show in February, and the re-named In the Arena is now slated to wrap next month. Jautz tells Mediaite Spitzer has been offered an "alternative position," which the former New York governor is "considering."
The new face in the new lineup belongs to ex-CNBC anchor Erin Burnett. Her show, in development under executive producer Wil Surratt and expected to launch in late September, will be a news hour that "makes use of (Burnett's) strengths" as a reporter–like Cooper–who's comfortable in the studio or in the field. "She's got a proven track record," said Jautz, noting that he expects the lineup to work well moving from Burnett at 7 to Cooper at 8. "Our aim was to create an overall lineup across early prime and prime that provides better flow from show to show."
Does "re-air" mean CNN could make taped programming a nightly part of its lineup? "No," says Jautz, who says shows will never "re-air" when there's news.
[UPDATE: CNN says Spitzer will depart the program tonight, and In the Arena will air with guest hosts until Cooper moves into the timeslot next month]
Have a tip we should know? tips@mediaite.com