CNN's King: Dems Worried WH More Focused on 'Covering Your Ass' Than VA Scandal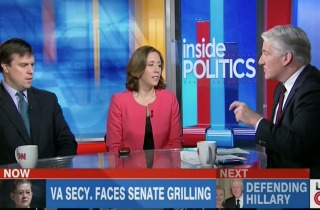 With Veteran Affairs Secretary Gen. Eric Shinseki set to testify before Congress on Thursday regarding the scandal surrounding the deaths of veterans who passed away while waiting for care on secret VA waiting lists, CNN's John King reported on Thursday that Democratic sources are expressing concerns privately that President Barack Obama and the administration are more focused on ensuring they do not take political blame for the scandal than they are in addressing it.

"Democrats are getting worried like they were on health care," King said. "You're starting to hear, 'We're not sure the administration is telling us everything. What else is there out there?'"
RELATED: Chuck Todd: VA Scandal More Dangerous for Obama than 'Partisanized' Benghazi
Associated Press reporter Julie Pace indicated that the White House is taking the scandal seriously, and their decision to send a senior administration aid to oversee the investigation is a sign of that.
"These allegations are incredibly troubling and they're becoming very worrisome for the White House and Democrats as a management issue," she added.
King noted that he spoke with a "top Senate leadership" source recently who expressed dissatisfaction with the White House trying to "spin" the scandal.
Quoting this aide, King said "this isn't about covering your ass, it's about taking care of guys who went to war so you didn't have to."
"The temperature rises on Capitol Hill when you involve veterans," King observed.
Watch the clip below via CNN:
[Image via screengrab]
— —
>> Follow Noah Rothman (@NoahCRothman) on Twitter
Have a tip we should know? tips@mediaite.com