CNN's Kiran Chetry Talks American Morning, John Roberts, and Journalism with Mediaite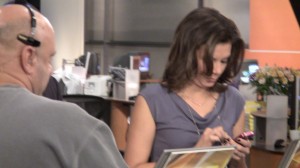 A few weeks ago, I discovered that CNN's American Morning co-anchor Kiran Chetry has an unusually devoted fan base, who had a little panic attack when she took a couple of days off. Such intense loyalty deserves closer examination, so I visited the set of American Morning Friday morning, and later interviewed Kiran about her news-heavy morning show, journalism in general, and that John Roberts clip.

In addition to a nearly 30-minute interview, I got to watch the last half-hour of American Morning (which airs Mon-Fri, 6am-9am EDT),  and also spoke with Kiran off-camera for quite awhile. The show, whose slogan is "The most news in the morning," eschews some of the fluffier trappings of morning news television. Although there is apparently a couch in the offing at some future date, part of an effort to make the presentation warmer, the content will remain news-focused.
In my off-camera conversations with Kiran Chetry, she was as energetic and friendly as she is on-camera, and clearly has a passion for the news business. She also spoke, at length, about the challenges that face troops returning from Iraq and Afghanistan, an issue in which she has a particularly strong interest.
In the first part of our interview, Kiran gives a quick bio that includes stints at Fox News and WICU-TV in Erie, PA, and talks about the long hours involved in each and every American Morning:
Next, I ask Kiran to talk about her show's "most news in the morning" angle, and whether that emphasis will change, plus she assesses the legs on the Wisconsin story, and reveals the story behind that John Roberts clip.
Finally, in the last segment of our interview, Kiran talks about Mediaite (she has incredible taste in websites), addresses those super-devoted fans, assesses CNN's place in the cable news firmament, and the state of journalism. She also reveals some personal details, talks about her rapport with co-anchor TJ Holmes, and makes me really, really want to do karaoke with her.
Have a tip we should know? tips@mediaite.com