CNN's Lamont Hill: 'Keep Spotlight' on Scott Shooting, 'Only Way We Get Indictments'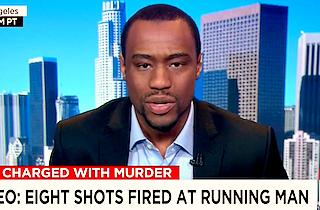 CNN contributors Marc Lamont Hill and L.Z. Granderson explained Wednesday morning why there were protests in the South Carolina community over the fatal police shooting of Walter Scott, despite the fact that charges had been brought against the officer, distinguishing it other from high profile cases.
A city council member had appeared on the show earlier and accused protesters of trying to "stir things up."
"We're only here because there's a videotape," Hill said. "We only get indictments, we only get arrests in the case of Sanford, Florida, and Ferguson, Missouri, when we keep a national spotlight on this. We need to keep marching and protesting to make sure nothing underhanded happens here."
"The other piece of this is, were not marching to get cops arrested for killing black people," Hill continued. "The struggle of Black Lives Matter, black activists all around the world, is not to get cops arrested when they murder us, it's to stop them from murdering us, to stop the institutional power, the structural power that happens and the white supremacist power that normalizes black people's deaths. I don't want black people to die."
RELATED: Fox Legal Analyst: Planting Weapons on Victims Used to Be 'Standard Operating Procedure'
"In fairness," anchor Carol Costello said, "the police chief came out, he immediately charged this cop with murder, he was in tears in talking about it with the press. The police chief appears to care."
"I don't know if he cares or not," Hill said. "He's doing his job. If a black person shoots somebody on the street, they arrest him and charge him with murder. This guy was caught on tape shooting someone, tampering with evidence, covering up and lying. Of course [the chief] did it! We should not be celebrating a police chief for doing his job."
"If we want to celebrate people, celebrate the people on August 9th, who came through Ferguson," Hill said. "Celebrate #BlackLivesMatter. Celebrate the sustained protests that make this a national conversation. I'm not going to reward a police chief for arresting somebody who got caught on tape shooting somebody."
Granderson, meanwhile, wanted further investigations into Slager's previous arrests and treatment of suspects.
Watch the clip below, via CNN:
[Image via screengrab]
——
>> Follow Evan McMurry (@evanmcmurry) on Twitter
Have a tip we should know? tips@mediaite.com