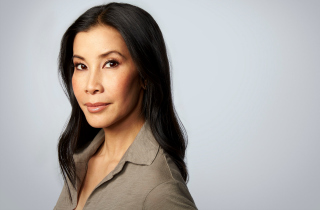 CNN's newest host Lisa Ling doesn't mind being the network's only female among an all-star cast of male original series hosts. Why? Because she thinks she is tougher than most of her male counterparts.
Ling spoke at a Tuesday afternoon press luncheon celebrating this Sunday's debut of her new CNN series, This Is Life.

Asked whether she feels any strain in joining the network's cast of personalities like Anthony Bourdain, John Walsh, Morgan Spurlock, and Mike Rowe, Ling confidently replied:
I don't feel any pressure, really, because I think I have bigger balls than a lot of guys. I will do almost anything, and I will eat anything that Anthony Bourdain eats. Personally I don't really think too much about my gender when I am working.
CNN boss Jeff Zucker added to that: "We didn't hired Lisa because she's a woman, we didn't hire Lisa because she's multicultural, we hired Lisa because she's a really excellent journalist."
Ling, a 20-year news reporting veteran, will take CNN viewers into subcultures not often seen on cable news: The first episode visits with "sugar babies" and "sugar daddies" — young, attractive women, and the wealthy older men who pay their bills in exchange for companionship; the second will explore the dark underbelly of prescription drug addiction in the straight-laced Mormon community.
A key component of the series, Ling said, is her "non-judgmental" approach to her subjects, allowing her more access and interaction with people who might otherwise shy away from national news exposure. Asked what to expect from her show overall, Ling said it will live in the "nexus between provocative and relatable."
This Is Life debuts this Sunday at 10 p.m. ET.
Watch the series' extended trailer below, via CNN:
— —
>> Follow Andrew Kirell (@AndrewKirell) on Twitter
Have a tip we should know? tips@mediaite.com