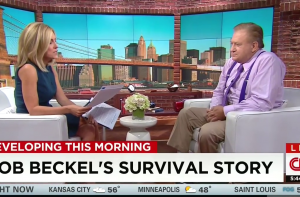 During his first appearance on New Day as part of his new gig at CNN, Bob Beckel was asked by host Alisyn Camerota about his mysterious leave of absence during his tenure at Fox News and his contentious departure.
"You were on the popular Fox show called The Five," Camerota noted. "You were the resident liberal. And then you disappeared for a while and there was a lot of questions about what happened to you and where you went."
Camerota then read off a Fox News executive's blunt statement about why they fired Beckel: "We tried to work with Bob for months, but we couldn't hold The Five hostage to one man's personal issues. He took tremendous advantage of our generosity, empathy and goodwill and we simply came to the end of the road with him."
While the official story at the time was that Beckel was recovering from back surgery, Mediaite reported at the time that he actually took a leave of absence to receive treatment for a pain killer addiction. But Beckel unsurprisingly did not feel the need to address his more recent battle with addiction on live television.
Beckel told Camerota instead that he signed a nondisclosure agreement with Fox where both parties agreed not to badmouth each other. "Apparently one of their executives didn't get the memo," he said coolly.
So why did he leave, according to Beckel? "Sitting there every day four against one can get a little bit tiring. Just a little bit."
Watch above, via CNN.
UPDATE — 11/03/15, 11:40 p.m. ET: A Fox News spokesperson reached out to Mediaite and stated that they did not violate any agreement they had with Beckel.
[Image via screengrab]
——
>>Follow Alex Griswold (@HashtagGriswold) on Twitter
Have a tip we should know? [email protected]