CNN's New Day Grills Bernie Sanders on Keystone: 'You're Defining It Narrowly'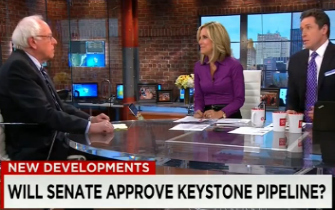 Sen. Bernie Sanders (I-VT) returned to CNN Monday morning to defend his staunch opposition to the possibility of congress approving the Keystone XL crude oil pipeline extending from Alberta, Canada, to southern Nebraska.
The self-described "democratic socialist" senator appeared three days on CNN's dayside to discuss the same topic, only to face a tough grilling from Carol Costello, who wondered why Sanders ignored the government's own study suggesting the pipeline would not cause any environmental damage.
Sitting at the New Day desk Monday morning, Sanders said "If we do not transform our energy system away from fossil fuel, this planet is going to face serious problems," and that approving the pipeline would "give a green light for transportation of 800,000 barrels of some of the dirtiest oil in the world."
When host Alisyn Camerota pointed out the same studies as Costello did days prior, Sanders replied that they were "faulty" and assumed that if the project does not get approval, the same oil would come by rail instead.
"I don't accept that," Sanders said. "The people who that did that study had a prior relationship with [Canadian energy company] TransCanada."
And as for whether the project would create jobs, Sanders remained skeptical: "Republicans talk about this with a jobs program. The number of jobs created on this: 35."
Chris Cuomo challenged the senator on that statement, telling him, "You're defining it narrowly."
"It's not just the making of the pipeline," the host explained, "it's what this will provide in commerce, changes dependence on foreign trading. There's a lot."
But Sanders countered with a line similar to what he said to Costello: "It might be a good idea to rebuild our crumbling infrastructure, roads, rail system. Start creating millions of jobs, not 35 jobs."
Watch below, via CNN:
— —
>> Follow Andrew Kirell (@AndrewKirell) on Twitter
Have a tip we should know? tips@mediaite.com