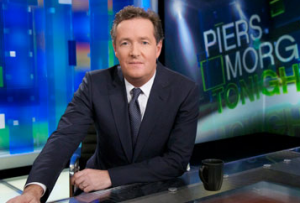 After months of buildup, CNN's Piers Morgan Tonight launched tonight with little fanfare, few fireworks, and a focus on one thing: showcasing the host's ability to inject new life into the hour-long interview.
Piers Morgan had Oprah Winfrey as his first subject, and while Oprah's been unusually available ahead of her own cable channel launch, Morgan did his best to break new ground.

As Hadley Freeman writes tonight in the UK's Guardian, the highly hyped host did deliver:
He did get some good personal details out of the notoriously private Winfrey, such as when she found out she was pregnant at the age of 14.

"I thought, I'm going to have to kill myself," she said. Did she try? "No," she insisted, before adding, "I did crazy things like drinking detergent and all that kinda crazy stuff that you do when you're trying to get attention."
Some viewers went to Twitter to question what they felt was fawning on the host's part, which was noted as well by the Guardian's Freeman, who compared him to Larry King, known for his softball interviews:
While he may not have been wearing Larry King's red braces, or sitting in King's studio (instead, it was filmed in a cluttered hotel room with an unfortunate, strange horse statue behind Morgan on which the rider appeared to be about to plunge a spear into his skull) he didn't entirely do away with all of his predecessor's trappings. There was a definite lick of subservience to Winfrey that was wholly lacking from, say, Morgan's interview with Katie Price on ITV.
Writing tonight on Entertainment Weekly, Ken Tucker noted the host was fawning at times, but was also brilliant:
The premiere of Piers Morgan Tonight revealed host Piers Morgan to be clever, tenacious, vain, a flatterer, and fitfully funny.
As Tucker notes, Morgan's reported obsession over research and preparation ahead of an interview was on display:
As for whether the "new boy" is a worthy replacement for Larry King… come on, you didn't watch Larry King Live, did you? Simply by having facts about his subject at hand and speaking coherently, Morgan aced King on his opening night. I'm looking forward to seeing him interview Howard Stern tomorrow night.
Did you watch? What did you think?
Have a tip we should know? tips@mediaite.com