CNN's Reliable Sources Brings on a Psychiatrist to Explain Malaysia Plane Coverage Overload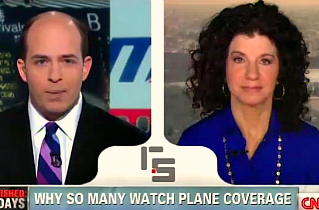 CNN, among other news outlets, has received its fair share of criticism for its constant coverage of the case of MH 370, the Malaysia Airlines flight that's been missing for eight days now.* On Sunday, Reliable Sources' Brian Stelter brought on psychiatrist and regular Today show contributor Gail Saltz, who explained that the lack of closure, and a related lack of somebody to blame, was driving the fascination with the story.
"It's terrifying, the idea of a plane going down," Saltz said. "If it's a mechanical failure or if it's sort of a natural disaster, than we have no control over that. But if there's somebody that a) we can blame, and b) we can control — terrorists, somebody doing something that we can stop from happening again — then that makes us relieved. Otherwise, it's a random event and that's terribly frightening."
"When you think about somebody dying needlessly, you sort of think, 'Who do I point a finger at?'" Saltz said. "This nebulousness keeps us riveted until we have someone we can hold accountable."
Saltz tied the fears about the downed plane to the psychology of conspiracy theories, which operate out of confirmation bias.
"The idea that people can vanish is in some ways even more terrifying than death," Saltz said. "It leaves you open to whatever your worst fantasies about that might be."
* Stelter did note that the coverage had given CNN a significant boost in ratings.
Watch the clip below, via CNN:
——
>> Follow Evan McMurry (@evanmcmurry) on Twitter
Have a tip we should know? tips@mediaite.com