CNN's Reliable Sources Gang Battles Over Whether Fox News 'Too Vitriolic' Towards Muslims After Boston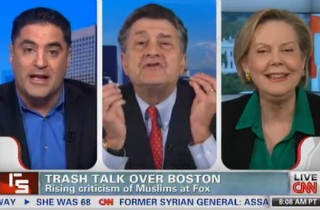 Appearing on CNN's Reliable Sources this morning, Current TV host Cenk Uygur, radio host Michael Medved, and journalism professor Jane Hall battled over whether the media's tone has become "vitriolic" in the wake of the Boston Marathon bombings — all three specifically focusing on whether Fox News was the main culprit in such rhetorical escalation.

When asked whether the overall tone has shifted towards the negative, Uygur answered in the affirmative, pointing the finger at one particular cable network:
"We know why. Let's be honest about who makes it vitriolic. It's usually Fox News talking about Muslims, which is ironic because this is the same Bill O'Reilly who kept calling [abortionist] Dr. Tiller 'Dr. Tiller the Baby Killer' until Scott Roeder shot him. So here's a fundamentalist that's Christian worrying about fundamentalists who are Muslims, driving people to violence."
Host Howard Kurtz replied that "it's not just entirely on one side," citing an MSNBC segment in which Alex Wagner accused O'Reilly and other conservative commentators of teetering on the brink of calling the president a "secret Muslim."
Uygur countered that Kurtz's assessment was a false equivalency, suggesting that O'Reilly and conservatives engage in the "all Muslims equal terrorists" logic, while the liberal side is simply cautioning against implying inaccurate things about groups of people.
Conservative radio host Medved shot back that all the major cable networks, including both Fox and MSNBC, have covered the radical "Islamization" of the two suspected Boston bombers. He also asserted that the mainstream media has done a relatively good job in making the association with radical Islam and terrorism, noting how the Tsarnaev mother's proclamations have "made it easy" to do so.
After journalism professor Jane Hall claimed that Fox News has been over-the-top in its attempts to attach terrorism to the Muslim religion — citing Ann Coulter's on-air desire to have Tsarnaev's wife arrested for wearing a hijab — Medved countered that Coulter's "outrageous" remarks represent the minority viewpoint.
"Bob Beckel?" Hall shot back, referring to the Fox liberal commentator's belief that Muslim student visas should be temporarily suspended in the wake of the attacks. She then condemned the network's "attempt to tar all Muslims as radicals." Medved was not convinced.
The battle between the three became so heated that, at one point, Kurtz had to call "time out" and warn that he'd prefer not to have this exact segment "descend into the same tone" they are all trying to describe about other networks' coverage of the bombings.
Watch below, via CNN:
— —
>> Follow Andrew Kirell (@AndrewKirell) on Twitter
Have a tip we should know? tips@mediaite.com