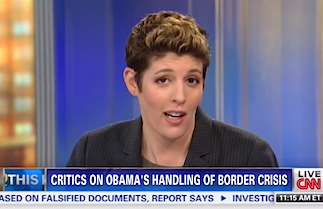 The words "border crisis" have been thrown around a lot over the last couple of weeks after an apparent surge of immigrant children trying to enter the United States through Mexico have ended up in temporary detainment camps. In fact, those were the words written across the bottom of the screen when CNN contributor Sally Kohn said this morning, "This is not a border crisis."
CNN's John Berman asked Kohn to weigh in on the "optics" of a photo like the one that emerged from President Barack Obama's trip to Denver last night, in which he is seen playing pool with Governor John Hickenlooper. He asked if that was a picture the White House "should be concerned about" given the current "crisis" along the border.
Kohn said, "There's always crises, there's always problems and he has to juggle a lot of balls at the same time." She explained that if she were the president she would visit the border, particularly the centers where the undocumented children are being held.
"But the reason to not visit the border is very obvious to me," she added. "This is not a border crisis. These kids are coming to the border, they are getting stopped, the border is working. Republicans are trying to turn this into a narrative of, 'Oh, the border isn't working, we have a crisis.' The immigration policies aren't working." She said the problem has been apparent since long before Obama started extending the idea of giving immigration access to younger children.
When host Michaela Pereira pushed back on Kohn's assertions, she clarified that she not saying there isn't a "crisis," she just thinks it's not the same one Republicans think it is, in which Obama has "failed to secure the border."
Watch video below, via CNN:
[h/t Noah Rothman]
[Photo via screengrab]
— —
>> Follow Matt Wilstein (@TheMattWilstein) on Twitter
Have a tip we should know? tips@mediaite.com