CNN's Sanjay Gupta Apologizes For Past 'Misleading' On Medical Marijuana: 'I Didn't Look Deep Enough'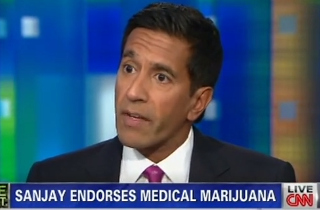 CNN's chief medical correspondent Sanjay Gupta apologized last night for being a participant in what he called the "misleading" of Americans over the potential benefits of medical marijuana.
Promoting his new documentary Weed (more on that later today in another piece of mine), Gupta told Piers Morgan last night that after a year of intensive research into medical marijuana, he has discovered that "we have been terribly and systematically misled in this country for some time."
"And I did part of that misleading," he added, noting that he has apologized for his previous opinion that he would never support the legalizing of marijuana for medicinal purposes.
"I didn't look far enough, I didn't look deep enough," he lamented further. "I didn't look at labs in other countries that are doing some incredible research, I didn't listen to the chorus of patients who said 'Not only does marijuana work for me, it's the only thing that works for me.'"
"I took the DEA at their word," he said. "There was no scientific basis for them" to say that marijuana had no medical benefits.
Later on in the interview, Gupta noted that he couldn't find a single instance of a person dying of a marijuana overdose. "I think it is irresponsible of the medical community not to offer this as an alternative," he said while noting the high death rate from prescription drug abuse.
Watch below, via CNN:
[h/t
RawStory
]
— —
>> Follow Andrew Kirell (@AndrewKirell) on Twitter
Have a tip we should know? tips@mediaite.com